UAE residents contribute to help Filipino go home to see mom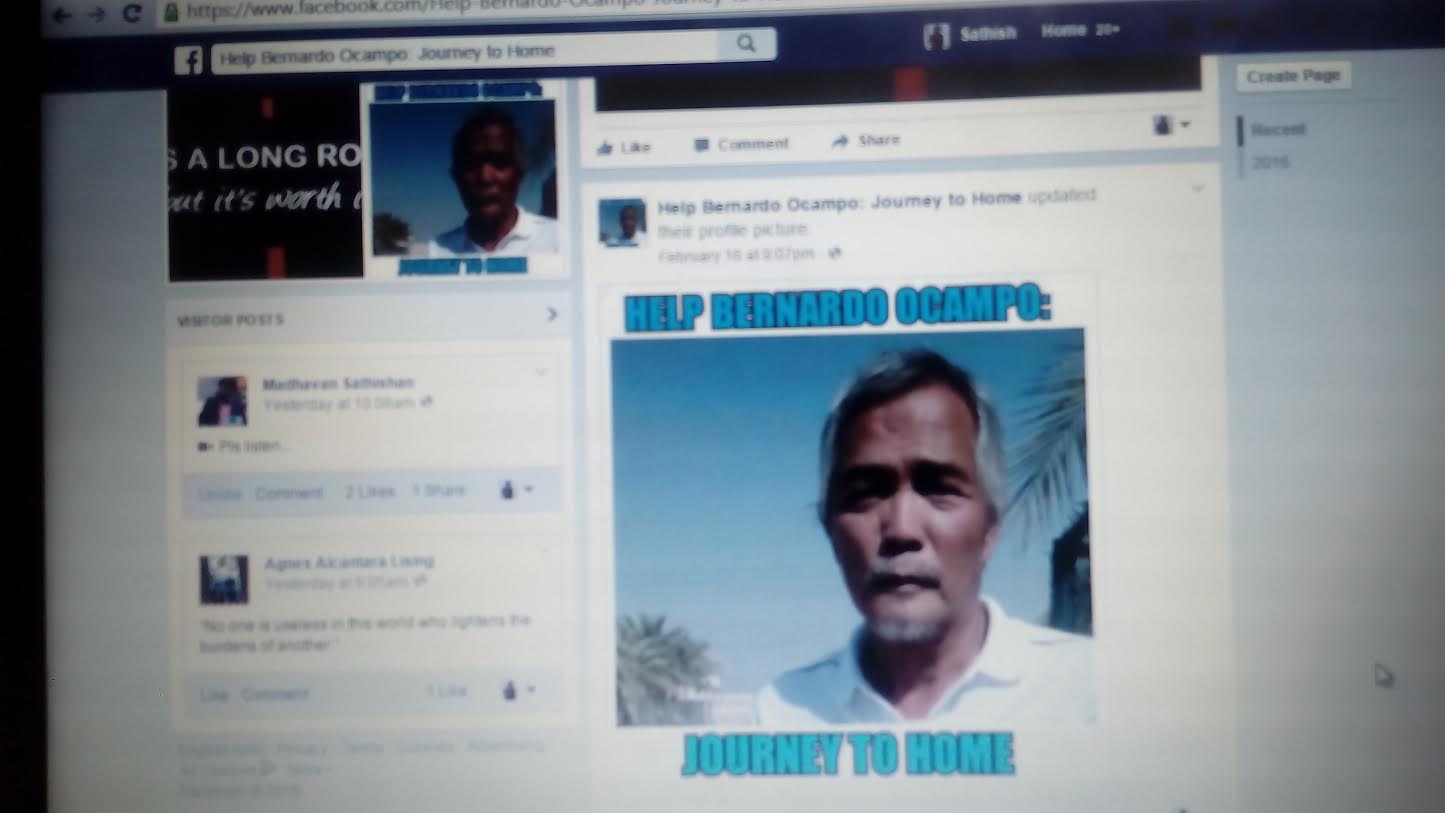 Emirates 24|7 readers, including the Filipino community members in the UAE, have come forward to lend a helping hand to the 60-year-old Bernardo Basco Ocampo who has not gone home for 20 years due to a financial hardship.
After this website reported the plight of the ageing Kabayan from Bisaya region of Philippines, a number of readers, community members and the Philippines media in the UAE have been in touch with offers of financial, moral and networking help to enable Bernardo reach home to meet his eighty years old mother, Virginia Basco Ocampo.
Irrespective of their nationality or religion, the community members have taken initiative to pool available resources to help the former Dubai Municipality bus driver to reunite with his mother. They have started a community page on Facebook for this purpose.
"I am very happy to see the community members and others offering to help me realize my dream. I will be happy to go home and meet my mother, who is eighty years plus now," an excited Bernardo told the website.
"I am told that a Facebook community page has been started to help me and I am thankful to the community members who have taken the initiative," he said, adding that he is yet to get any financial help.
Bernardo's story went viral on the internet after it was shared by many readers, especially the Filippino community members, who are offering whatever they can afford to help him.
A UAE-based Filipino told this website: "I am really sorry to read this story and I have been trying to contact him. We have now made a Facebook community page, Help Bernardo Basco Ocampo: Journey Home, with a caption, It is a Long Road (from Dubai to Manila)."
"We are trying to pool some money to help him clear the outstanding amount of Dh40,000. We hope the emigration fine, if accumulated over the years, will also be written off," said C. Crystali Jaudian, coordinator of the Help Bernardo Ocampo Community page. She said the stranded Filipino man has already been contacted and efforts are on to help him return to his country.
"It is a long journey from here to the Philippines after 20 years. We are trying to speed up the much-awaited return trip of our Kabayan, though some community members are skeptical about helping others," lamented Crystala.
While some readers have suggested legal procedures to get out of the Dh40,000 liability, others have directly offered financial help.
"I want to meet this guy in person so that we can speak to him and discuss how to send the contributions for him. If I could meet him outside the Consulate, I will definitely be in touch with him and will help with the fund raising," said Candy B Baldovino, another community member in Dubai.
"Hope someone can arrange all the contribution for this guy so he can see his mom," said Malab Cruz.
Shu Shu Carido, another community member felt that it is for the Philippines Embassy to come forward with help because the overseas Filippino workers contribute a lot of money to the embassy.
Follow Emirates 24|7 on Google News.