UAE residents suffer heart attacks 20 years before global average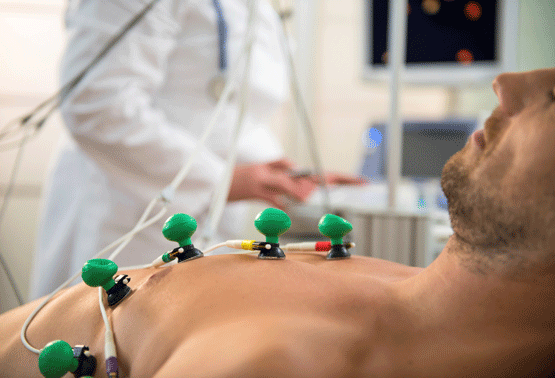 A Philippines-based healthcare provider is calling on the UAE's medical industry to increase the adoption of the Rapid Response System (RRS) in cardiovascular diseases to bring down casualty rates.
The Medical City (TMC), the Philippines' largest healthcare network which partnered with Kuwait's Sama Medical Services to expand its presence across the UAE and in the Gulf Cooperation Council (GCC) countries, says the implementation of RRS is a life-saver.
The RRS was developed after it was discovered that several deaths could be prevented if a hospital's first line of defence changed from junior doctors and nurses to a team highly specialised professionals in critical care.
The healthcare provider revealed that through its Acute Myocardial Infarction (AMI) Clinical Care Programme, which implements RRS, mortality rates among patients decreased from 9.96 per cent in 2012 to 6.12 per cent in 2015.
UAE residents on an average suffer heart attacks 20 years earlier than the global average. A survey by the Emirates Cardiac Society revealed that the average age for heart attacks among Emiratis is 45-50 years compared to 65 years in the West.
"In modern medicine, one of the main tools in saving patients from a heart attack is the RRS. This is a service increasingly being adopted by top medical institutions around the world and it involves detecting signs of an impending heart attack and administering treatment before the patient actually goes into cardiac arrest," explained Dr Jose Paulo Prado, AMI Programme Director at TMC.
Dr Prado, who delivered a talk on the AMI Clinical Care Programme at the "Cardiovascular Disease and Intervention Conference" during the Arab Health 2016, said that one of the major factors for the success of TMC is the implementation of the RRS.
RRS is a proactive measure that aims to detect the early signs of clinical health deterioration that could lead to cardiac arrest.
The World Health Organization (WHO) estimates four out of five deaths stem from diseases accompanied by heart attacks or strokes.
WHO statistics (2000-2012) on cardiovascular diseases mortality (age-standardised death rate per 100,000 population) showed that the UAE fell within the bracket of 201-300 deaths, which is higher than western countries like the US which recorded 136 deaths per 100,000 population.
Other countries that had lower rates include Canada, which had 89, Sweden had 132, Germany had 143, France had 86, and Australia had 92 deaths.
Of these findings, Dr Prado said, "the UAE should adopt RRS widely in view of the data on cardiovascular diseases."
Like many aspects of advanced medicine, RRS marks a shift from reactive measures. The system includes a multi-disciplinary team consisting of intensive care unit-trained personnel available round the clock everyday to evaluate patients who are developing signs or symptoms of clinical deterioration.
"RRS can identify aberrations in a person's vital signs, such as changes in blood pressure and breathing rates. As soon as such signs are detected, the RRS team starts on the treatment, and that few minutes' head-start can save a person," said Dr Prado.
RRS is being implemented as part of TMC's heart attack clinical care programme, which aims to give patients the expert treatment of a highly trained rapid-response team, all within the ideal time frame of 90 minutes.
TMC's heart attack programme is the first health institution in the Philippines and eight in the world to be granted the Joint Commission International (JCI) Clinical Commission Clinical Care Programme Certification. JCI is the world's most prestigious accrediting body for health care organisations.
Why RRS?
An excerpt from a study in the Medical Journal of Australia stated in detail: "Before the widespread implementation of RRS, there was little research into one of the most common interventions in acute care hospitals.
"The largest study on RRS effectiveness found that almost 50 per cent of patients who died, those that had a cardiac arrest or were admitted to an ICU, did not have their vital signs measured before the event.
"Since then, Australian hospitals began adopting RRS on a large scale from the first decade of the 21st century, which then resulted to about 12,000 lives saved annually."
In addition to this report, another study, published in the same journal, stated that RRS "may reduce deaths by up to one-third and cardiac arrests by up to 50 per cent".
Among the criteria that may trigger an alarm for the RRS include low systolic blood pressure (usually less than 90 mmHg); high or low respiratory rate (e.g., less than 4 breaths/min or more than 30 breaths/min); and abnormal pulse rate (e.g. less than 40 beats/min or more than 140 beats/min). Seizures, airway obstruction and failing consciousness are also triggers for the RRS team.
In 2015, a new research paper taken from the US National Library of Medicine showed that "the implementation of RRS has been associated with an overall reduction in hospital mortality in both the adult and paediatric in-patient population."
"Once the RRS team gets into action, the series of tests not only saves the patient in the present situation, but also tells us whether a surgical procedure is required for the future. If necessary, an angioplasty is performed, and that can prevent future heart attacks," said Dr Prado.
"To perform effectively, the RRS team requires the support of the whole hospital. For this, the quality of equipment and systems of a hospital as well as the surgical facilities available are very important," said Dr Erlinda Oracion, Clinical Quality Director of The Medical City and a panel speaker on 'Quality in healthcare: what can we apply now?' at Arab Health 2016.
Follow Emirates 24|7 on Google News.