UAE's Emirates, Etihad among world's safest airlines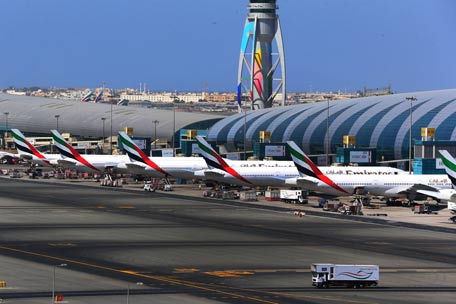 2014 is believed to be one of the toughest years for the aviation industry due to the accidents and the resultant loss of lives.

These accidents have sent jitters among passengers, raising questions about the safety. In 2014, two commercial passenger aircraft crashed and one was shot down.

But 2015 has brought good news for passengers flying with the UAE carriers, as both the leading airlines – Emirates and Etihad Airways – have been rated among the safest in the world.


According to the airlineratings.com, Emirates and Abu Dhabi-based Etihad have been ranked among top 10 safest airlines, rated from among the 449 airlines it monitors.

Dubai-based Emirates is the world's largest international airline as it ended with the largest wide-body passenger fleet of 218 aircraft in addition to 14 freighters.

Among the top 10 safest carriers, Emirates affiliate Qantas leads the 2015 safe airline pack, and the rest of the top 10 (in alphabetical order) are: Air New Zealand, British Airways, Cathay Pacific, Emirates, Etihad, EVA Air, Finnair, Lufthansa and Singapore Airlines.

Of the 449 airlines surveyed by the website, 149 have the top seven-star safety ranking, but almost 50 have just three stars or less.

None of LCCs from GCC among top 10

Among the low-cost carriers (LCCs), none of the Middle Eastern carriers could make it to the top 10 safest airlines.

The safest LCCs in alphabetical order are Aer Lingus, Alaska Airlines, Icelandair, Jetblue, Jetstar, Kulula.com, Monarch Airlines, Thomas Cook, TUI Fly and Westjet.

Unlike a number of low cost carriers, these airlines have all passed the stringent International Air Transport Association Operational Safety Audit (IOSA) audit and have excellent safety records.

There is no doubt 2014 was a bad year for airline safety with some of the most tragic and bizarre incidents in modern history but the numbers can be deceiving, the report said.

"Certainly, 21 fatal accidents with 986 fatalities – higher than the 10-year average – is sickening. However, the world's airlines carried a record 3.3 billion passengers on 27 million flights.

"Flashback 50 years and there were a staggering 87 crashes killing 1,597 when airlines carried only 141 million passengers – 5 per cent of today's number," it said.

"Another twist is that fatal accidents for 2014 were at a record low 21 – one for every 1.3 million flights. Two of the crashes last year – MH370 and MH17 – were unprecedented in modern times and claimed 537 lives.

And airlines with the worst safety rankings are… Five airlines only achieved one star for safety from AirlineRatings.com. These are: Agni Air, Kam Air, Nepal Airlines, Scat and Tara Air.

Key criterion for assessing safe airlines:

- Is the airline IOSA certified? If yes two stars are awarded; if not, no star is given.

- Is the airline on the European Union Blacklist? If no a full star is awarded; if yes then no star is given.

- Has the airline maintained a fatality free record for the past 10 years? If yes the airline are awarded a full star; if not then no star is given.

- Is the airline FAA endorsed? If yes a full star is awarded; if not, no star is given.

- Does the country of airline origin meet all 8 ICAO safety parameters? If yes TWO stars are awarded to the airline.

- Has the airline's fleet been grounded by the country's governing aviation safety authority due to safety concerns? If yes an additional star will be taken off the total for five years from the time of grounding.

- Does the airline operate only Russian built aircraft? If yes an additional star will be taken off the total.
Follow Emirates 24|7 on Google News.