UAE sends 17-truck convoy laden with 12,000 food baskets to AD-duraihmi, Yemen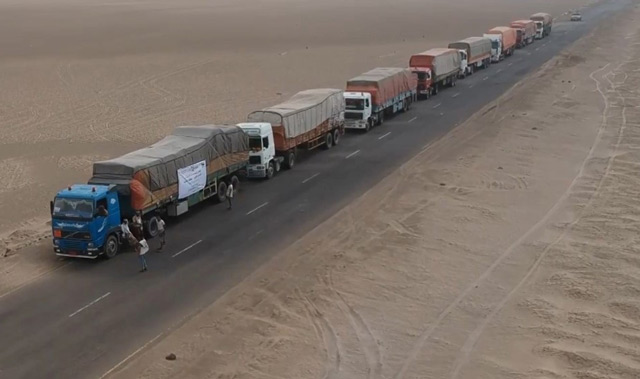 Up to 84,000 Yemenis, including 60,000 children and 12,000 women in AD-duraihmi district of Hodeidah, are set to benefit from a 17-truck convoy laden with 12,000 food baskets provided by the Emirates Red Crescent as part of the UAE premier humanitarian arm's consistent efforts to meet the needs of Yemeni people in the embattled country's recently liberated territories.
The aid includes basic food supplies for those in abject need of humanitarian assistance in the recently liberated district, where the local people are suffering from the aftermath of the Iranian-backed Houthi militias' siege and depredations.
The gesture fits within the UAE's humanitarian surge plan to alleviate the suffering of the Yemeni people and help them survive their straightened circumstances and overcome the dire sequels of the rebels' malpractices.
The ERC has recently sent a relief sea bridge consisting of 10 ships loaded with 35,000 tonnes of aid, a seven-flight airlift of 14,000 food parcels and a 100-truck convoy carrying goods purchased from local markets in Yemen as part of the surge plan set by the Saudi-led Arab Coalition fighting on behalf of the internationally recognised government in Yemen.
Follow Emirates 24|7 on Google News.