UAE Storm Effect: Kids 6 hours on bus, waist-deep water, diversions…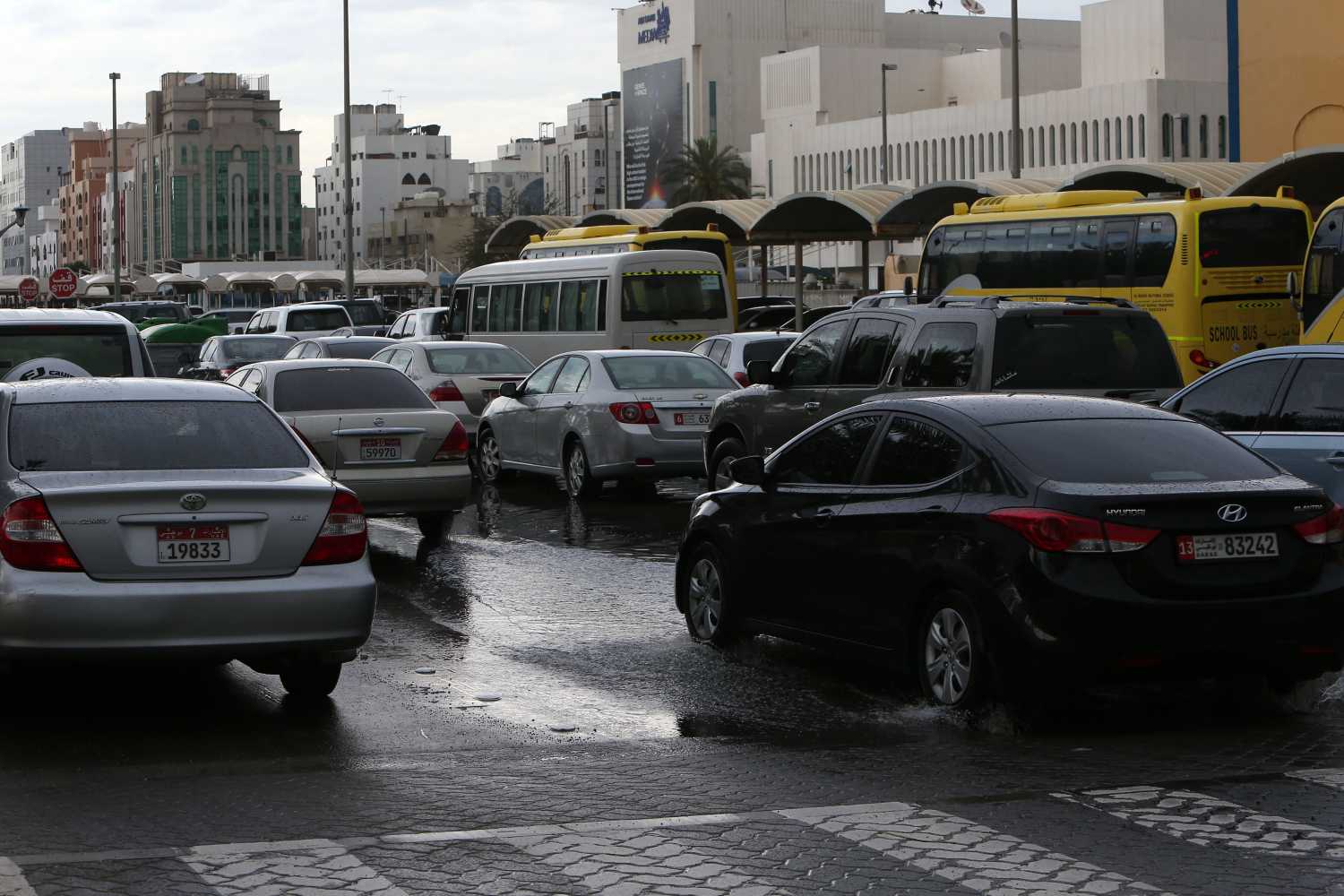 As a battered UAE weathered a storm that saw wind speeds clock 130km per hour at its peak, reports have now emerged of harrowing personal experiences, property damage and a six-hour long traffic gridlock that saw people abandon vehicles and wade through flood waters to reach home.
Abu Dhabi and its surrounding areas were the worst hit, followed by water levels reaching three feet high in areas such as Jebel Ali and Discovery Gardens.
The waterlogging also saw Sheikh Zayed Road traffic near Ghantoot, come to a complete standstill for hours, with people reporting traffic gridlock on parallel highways such as Sheikh Mohammed bin Zayed Road and Al Khail Road as "barely manageable".
Kids stuck on school buses
As Dubai Police, the Roads and Transport Authority and Dubai Municipality officials worked overtime to clear clogged areas, perhaps one of the worst hit communities was the populated Discovery Gardens.
Harrowed parents complained the waterlogging and the corresponding traffic jams in the residential community resulted in children unable to reach home for nearly six hours, trapped in school buses.
Anju Mehrotra, a parent whose child attends a neighbouring community school, said: "By the time we received the message from the school to come collect our children, it was already too late to avoid the traffic or the waterlogging in the community.
"Finally, the remaining children were bundled on to buses to be dropped home but there was no end in sight. My son took over four hours to make it to our home, which is an average 15-minute drive from the house. A friend's child was stuck a little under six hours on the bus."
'Waist deep waters'
The Jebel Ali Industrial area was also severely hit by the storm, with water levels rising three feet, even as people reported being evacuated from offices, only to find their vehicles submerged in the car park.
Mahmood Khan said: "We were trapped in our offices for hours before we were finally evacuated when water levels rose nearly 12 inches indoors.
"But if we thought that was bad, some of us attempting to reach our vehicles found the waters waist deep, while our cars practically floating in front of us."
The rising water levels also saw vehicles breakdown on the busy Sheikh Zayed Road, with some Dubai Metro users stating parts of Danube Metro Station were also inaccessible unless someone chose to wade through knee high waters.
SZR road diversion
Abu Dhabi, which experienced gale like wind speeds that uprooted trees and caused severe property damage, to both buildings and vehicles, also resulted in a "nightmarish" journey on the busy highway connecting the capital to Dubai.
After reports of waterlogging near Dubai Parks and Resorts, the RTA, in coordination with Dubai Police, announced a traffic diversion on Sheikh Zayed Road late Wednesday evening, heading south into Abu Dhabi.
Traffic will be diverted from the 7th interchange, Yalayis Road, towards Sheikh Mohammed bin Zayed Road thereafter.
Meanwhile, traffic heading into Dubai from the capital will be diverted to Saih Shuaib to the truck road, and Sheikh Mohammed bin Zayed Road thereafter.
The authorities announced this to drain the waterlogging near Jebel Ali, which saw several commuters complaining of being trapped in that pocket of traffic for over three hours on Wednesday.
The diversion would be removed once the area has been drained, stated the RTA.
Residents urged to be cautious
As storm clouds will continue to rain on residents' parade on Thursday, the Ministry of Interior Abu Dhabi has called upon citizens and residents to adhere to public safety and prevention requirements in the prevailing and unpredictable weather conditions accompanied by heavy rain and strong winds.
The ministry also confirmed the readiness of all police authorities for such conditions according to the preset emergency plans.
Major General Jassem Muhammad Al Marzouqui, Commander-in-Chief of the Civil Defense at the Ministry of Interior, confirmed that no major accidents were reported.
Major General Al Marzouqui also called upon citizens and residents not to leave their homes unless necessary in such weather conditions; to follow prevention methods, and take the proper measures to prevent accidents of all kinds.
He also urged them not to approach flooded and landslide areas for their own safety.
Follow Emirates 24|7 on Google News.