UAE students to go through acid test in inter school quiz contest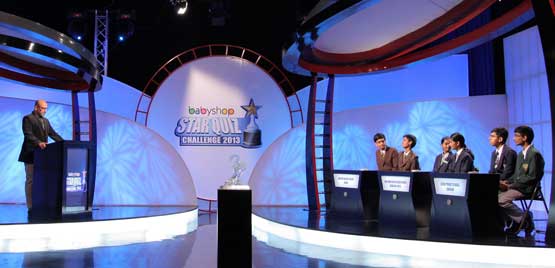 It's time to brush up your intelligent mind, revise the current affairs and history lessons before it's put through an acid test during the Babyshop Star Quiz Challenge 2013.
Schoolchildren from across the UAE will clash in a battle of wits in one of the biggest quiz competitions in the country.
The region's leading TV channel, STAR Plus announces season 3 of UAE's only & most prestigious Inter School Quiz contest on TV.
Sumantra Dutta (Sumo), Country Head for STAR Middle East, Pakistan and Africa, says, "As one of the region's leading TV networks, we have always wanted to contribute to the region. The STAR TV network conceptualized & created UAE's only Inter school quiz contest on TV."
It's an inter-school quiz competition in which 70 schools will participate and this annual event will be telecast every week across 3 months in STAR Plus.
Held every year since 2011 the event has grown bigger, better and tougher. The first season saw 47 schools, over 650 students from across UAE taking part. The number grew to 57 schools and over 750 students in 2012.
This year the Babyshop Star Quiz Challenge 2013 will see competition getting tough with 70 schools and a record 900 students participating.
These 900 students will first take part in the elimination contest. Post the eliminations, only 18 teams will make the final cut for the shootout on TV, on STAR Plus.
Sumantra Dutta said, "Putting together the regions only Inter school annual quiz contest on TV was one way of giving back to the community here. This has gone a long way in furthering the local connect and enriching the lives of our viewers."
He continued, "Quizzing is here to stay in the UAE and the STAR Quiz Challenge has a great part to play in it."
The contest reaches out to schools across all educational curriculum i.e. International (American & British), Indian, Arabic.
Young minds are quizzed on topics ranging across sports, music, current affairs, science, technology and general knowledge.
It tests the best, keenest & brightest from schools across the UAE. Having established itself as the UAE's definitive & most prestigious Inter School Quiz contest, it returns this year with a greater promise and intent.
The quiz master will conduct the show in English keeping in view the cosmopolitan environment of UAE.
The Babyshop STAR Quiz Challenge 2013 will air every Saturday, starting 16th February at 8:30pm on STAR Plus.
Follow Emirates 24|7 on Google News.