UAE volunteer doctors treat thousands of workers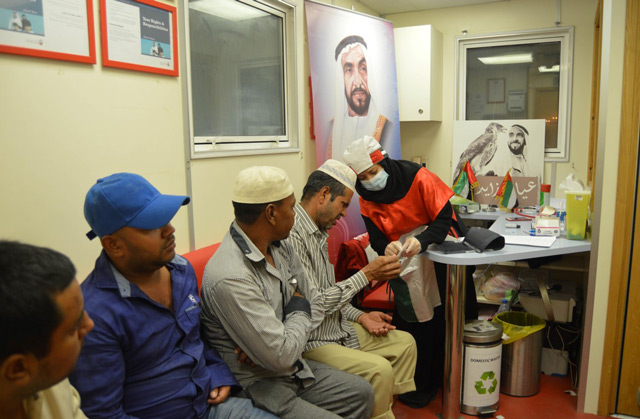 UAE doctors and medical practitioners, volunteering in the Emirates Programme for Community and Specialised Volunteering, have treated thousands of workers from various nationalities, under the slogan, "Following in the Footsteps of Zayed," coinciding with International Labour Day.
Treatments were made available via mobile clinics and a field hospital equipped with advanced medical technologies, as per the best international standards, under the framework of the "Millennial Giving Campaign" and in line with the Year of Zayed.
The volunteer doctors are working in mobile clinics and the field hospital under the supervision of the Zayed Giving Initiative, in cooperation with the Dar Al Ber Society, Sharjah Charity House and the Saudi-German Hospitals Group.
Dr. Reem Othman, Ambassador of Humanitarian Work, stated that the UAE is keen to provide comprehensive healthcare services to workers, as per the directives of the wise leadership, in light of its belief that workers are partners in the country's development.
Dr. Khadija Al Nuaimi, Executive Director of the Zayed Mobile Clinic, highlighted the importance of cooperating with partners in giving, as well as the volunteer initiative, which reflects the spirit of the Year of Zayed and aims to provide workers with the required knowledge and tools to protect their health and well-being. She also praised the efforts of the volunteer doctors and their valuable contribution to the initiative.
Al Anoud Al Ajami, Executive Director of the Emirates Volunteer Centre, stated that the UAE Doctors has volunteers who can provide free services to educate workers on various topics related to healthy lifestyles and stress management, which will benefit thousands of workers.
Follow Emirates 24|7 on Google News.