UAE weather alert: Hot, dusty climes; mercury rises to 30s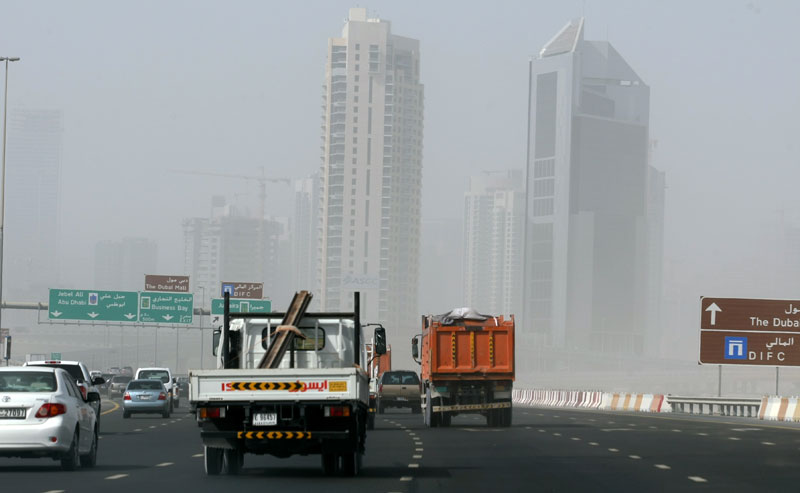 Update: The UAE's weather bureau has issued an alert at 10.30am on Tuesday, warning residents visibility has dropped to 100 metres in Al Hamra area of Abu Dhabi due to blowing sand and dust.
Drivers in the area are asked to proceed with caution.
Earlier: Residents of the UAE wouldn't be amiss in thinking summer has officially commenced, as the country's weather bureau warns of a peak in temperatures that will hit the mid-30s across the coast and internal areas.

As residents feel the heat, the weather will take a turn for the worse with the National Center for Meteorology and Seismology (NCMS) warning of dust and sandstorms in parts, with increased cloud cover over the eastern part of the country with a further rise in Mercury.

However, southerly winds will continue to prevail over most areas of the country, warned the NCMS, with wind speeds reaching nearly 60kmph at times.

On Wednesday, the weather is unlikely to fare any better, with the NCMS stating the high winds will dust and sand across open areas, vastly reducing horizontal visibility.

Earlier this week, the NCMS confirmed visibility dropped as low as 200 metres in Al Hamra as wind speed picked up and caused a sandstorm in the area.

Drivers are also being cautioned as the dust and hazy weather could cause hindrance while commuting on open highways.

Meanwhile, both Tuesday and Wednesday also have a marine warning in place, with the weather bureau warning fishermen and those venturing into the deep waters of the Arabian Gulf and the Oman Sea to proceed with caution due to choppy waters and high waves of nearly 10 feet.

Follow Emirates 24|7 on Google News.