UAE well positioned for 21st century: Clinton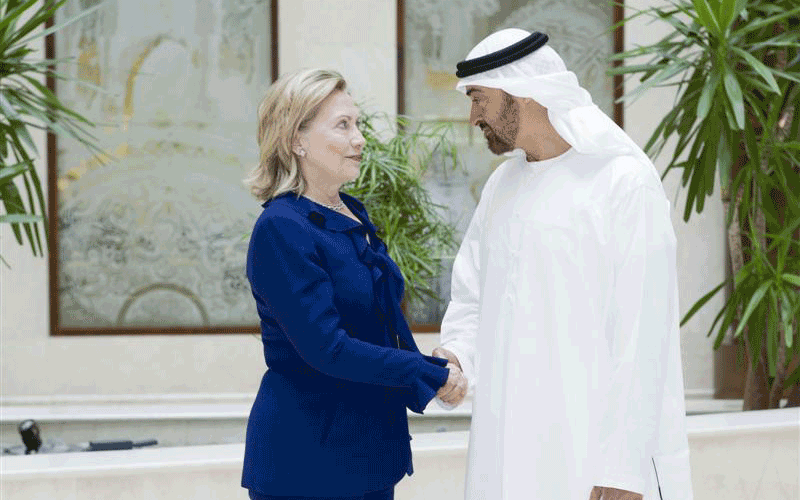 US Secretary of State Hillary Rodham Clinton said on Monday that the UAE is so well positioned to compete in the 21st century because of its commitment to clean, renewable energy.
Addressing a gathering during her tour of the Masdar City in Abu Dhabi, Clinton also spelt out her satisfaction over the deepening partnership between UAE and the US in the energy sector.
"I am very pleased the United States and the UAE have deepened our partnership on energy in recent months", Clinton said.
Clinton, who is in the UAE as part of her regional tour, congratulated Abu Dhabi on hosting IRENA.
"This is the first truly international organization to be headquartered in the Middle East and we have high hopes that it will provide a link between developed and developing countries in sustainable energy production", she said.
The following is the full text of her speech:.
It is such a pleasure for me to be here, I want to thank Dr. Sultan Al Jaber, Special Envoy for Climate Change, UAE and the CEO of Masdar. And Adnan Amin, the new interim Director General of the International Renewable Energy Agency, known as IRENA, which will have its permanent headquarters here in Masdar City. And Dr. Fred Moavenzadeh, the president of the Masdar Institute of Science and Technology and a professor from MIT.
This is a very exciting and important visit for me personally, and I thank His Excellency for those kind words, but the partnership that we have established between the United States and Abu Dhabi around renewable energy and climate change and sustainable development that takes advantage of human capital is one of the most important partnerships for the future that we could be pursuing.
We have a special connection with the Institute because of the Massachusetts Institute of Technology, one of our nation's top universities and because of the Department of Energy. We believe that the work being done here at Masdar has the potential to solve some of the most urgent challenges facing our planet.
How do we develop sustainable energy sources that can power our cities without contributing to climate change? How do we create technologies that are scalable and both use less power and are widely affordable? How do we supply water for drinking and farming in places where fresh water sources are decreasing? How do we achieve economic growth without relying so heavily on fossil fuels, where they are drilling for them, selling them, buying them or burning them? WAM/AB
Now these challenges are pressing across the world, but they are especially significant here in the Gulf. We know that oil supplies are shrinking, water tables decline. The old strategies for growth and prosperity and growth will no longer work. For too many people in too many places, the status quo today is unsustainable and the UAE is leading our work and the path we must take into the future. It is putting into practice what it means to be sustainable and laying the groundwork for economic, environmental and social progress. What I admire about the steps that the UAE has taken is that it's not only this Institute - which is very impressive just to be part of and to view - but it's also working while continuing your role as a leading oil producer, investing in renewable energy sources like wind and solar, and moving toward a knowledge-based economy by investing in education as I saw this morning at Zayed University. UAE is positioning itself to be a center for innovation and entrepreneurship for years to come.
Now I would imagine that many other countries are going to be looking to you to learn how to do this. You will have the model that will demonstrate to others what it takes to achieve renewable energy and sustainable growth.
To the end, we look forward to the positive impact that IRENA will have. The United States applauds IRENA's goal of accelerating the rapid development and deployment of renewable energy worldwide. We want to enhance energy security, reduce greenhouse gas emissions, address energy poverty, support sustainable development and boost economic growth worldwide.
And we congratulate Abu Dhabi on hosting IRENA. This is the first truly international organization to be headquartered in the Middle East and we have high hopes that it will provide a link between developed and developing countries in sustainable energy production. And we want it to be a truly global organization open to representative offices, here in the UAE, to every country willing to abide by its principles, and commit to its good, to translate good intentions into concrete results.
I am very pleased the United States and the UAE have deepened our partnership on energy in recent months. Masdar and the US Department of Energy signed a Memorandum of Understanding last year to promote joint research and development of clean energy technologies. Our two countries, along with nearly two dozen others, held our first ever high-level ministerial meeting on clean energy last June in Washington and Abu Dhabi will host the second meeting here in April. And in a week, US public and private sector representatives will join people around the world here in Abu Dhabi at the World Future Energy Summit.
This work is in the interest of not only global progress, but also our own domestic interests as well. Because clean energy will be a driver for good jobs. I know that there are many talented people here in the UAE, and giving scientists and engineers and technicians the opportunity to participate in the clean energy revolution will bring good jobs to the UAE, more income and a greater ability to create and spin off businesses.
UAE is so well positioned to compete in the 21st century because of your commitment to clean, renewable energy. We are fully committed to supporting your work and we will do everything we can through our academic institutions, like MIT, through our government, like the Department of Energy and the State Department, and through our private sector, to bring more jobs and to bring more innovative entrepreneurial spirit here to the UAE.
There is so much that we can do together. And I would add that part of the reason for my trip is not only to meet with leaders, as I have had the chance to do, but also to talk with the citizens of this country, as I did earlier at the Town Hall but also to highlight the very creative effort that are being taken here in Abu Dhabi.
I want my country to know how advanced you are in pursuing clean renewable energy. I want the world to know that the US is partnering with you because we are betting on Abu Dhabi and the UAE.
We are betting that this incredible investment represented by Masdar is going to pay off. And when it pays off, it will not only mean a better life for the people in this country and in this region, it will have ripple effects throughout the world. Now, one of our challenges is how do we raise the standard of living in poor countries. We cannot do it by recreating the past. We have to do it by leapfrogging into the future. And the technologies that you will pioneer here will enable a poor African or Asian or Latin American country to have a better future as well.
So I express our gratitude to the leadership and the people of the UAE for being visionary, innovative, creative, and at the same time, very practical about how you intend to achieve your goals. We are proud to be your partner and we are looking forward to achieving real progress for our citizens in both of our countries and for the world at large.
Calls for more work on Iran sactions
US Secretary of State Hillary Clinton dismissed on Sunday Israeli assessments of delays in the Iranian nuclear programme and called for more work on sanctions to bring Tehran to heel, reports Reuters.
Clinton, on a tour of Gulf Arab countries to shore up support for pressure on Iran, arrived in Abu Dhabi, the capital of the United Arab Emirates. She will also visit Dubai, Oman and Qatar on the five-day trip.
Global powers are preparing for another round of talks with Iran this month over its nuclear programme.
Clinton said a recent assessment by the retiring chief of Israel's Mossad intelligence service that Iran would not be able to build an atomic bomb until at least 2015 should not undercut international determination to keep the pressure on Iran through sanctions and other means to come clean about its atomic work.
"The timeline is not so important as the international effort to try to ensure that whatever the timeline, Iran is not pursuing nuclear weapons," Clinton told reporters on her plane as it arrived in Abu Dhabi.
"I don't know that it gives much comfort to somebody who is in the Gulf, or who is in a country that Iran has vowed to destroy, that it's a one-year or a three-year timeframe."
Clinton did not dispute the views of Mossad's retiring director Meir Dagan, whose comments published on Friday were interpreted as evidence of new Israeli confidence in US-led sanctions and covert action designed to discourage or delay Tehran's uranium enrichment programme.
"I think we should keep the attention where it belongs," Clinton said, adding that she was confident existing sanctions on Iran "have had a very significant impact."
Western intelligence agencies say Iran could make a bomb by the middle of the decade, should it choose to enrich uranium to higher levels and master weaponisation techniques.
Clinton's Gulf visit, her second in two months, is aimed at underscoring US security commitments to its allies in the oil-rich region, who are among those who feel most threatened by Iran's nuclear plans.
The five permanent members of the UN Security Council - the United States, Britain, France, China and Russia - along with Germany are due to hold a second round of talks with Iran in Istanbul later this month after a first set of negotiations in December produced little progress.
Clinton said her message to Gulf leaders was that sanctions were working and enforcement must be improved.
"We do keep the pressure on all the time because the Iranians are always looking for a way out of the sanctions," she said. "We expect all our partners to share that concern, as these countries certainly do."
"We don't want anyone to be misled by anyone's intelligence analysis," she said.
Clinton is expected to discuss other regional issues, ranging from security in Yemen, where Al Qaeda's regional wing is increasingly viewed as a global threat, to the new government in Iraq and faltering US attempts to bring Israel and the Palestinians back to the bargaining table.
Concerned over bid to destabilise Lebanon
The US Secretary of State later expressed concern over attempts to "destabilise" Lebanon amid tensions there linked to a UN probe into the 2005 murder of ex-premier Rafiq Hariri.
"I'm deeply worried about the efforts to destabilise Lebanon," reports AFP.
Clinton said in Abu Dhabi during the taping of a television talk show when asked by an interviewer about the political crisis in Lebanon and concerns of war.
"We should do everything we can to make sure those warnings are not accurate," Clinton said, when asked to comment on warnings of a regional conflict.
"It's very important we look at how disastrous a war would be for everyone and it still is a fact there is no solution to the problems that beset the area through war," Clinton said.

Follow Emirates 24|7 on Google News.