Unclaimed body lying in morgue for 6 months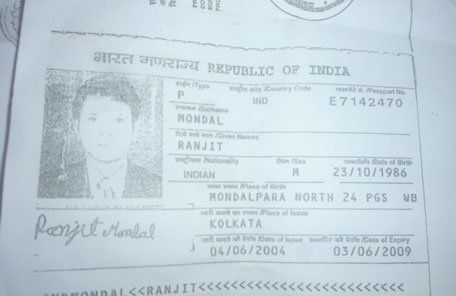 Ajman police and Indian social workers are in a Catch-22 situation about the case of a young Indian carpenter who died six months ago but whose dead body has been lying unclaimed in the Ajman police morgue since then.
It seems that his wife and relatives may not be even aware of what happened to the youngster from Kolkata. Ranjit Mondal (26), married to Sunita Mandol from Kolkata, died in an Ajman hospital six months ago.
A death certificate issued by the Ajman office of the Department of Preventive Medicine of the UAE Ministry of Health says Ranjit Mondal died last December but his body was not sent home because no relative came forward to claim it.
Ajman police could not cremate the body locally without a No Objection Certificate from his close relations like father, mother, wife or siblings. The authorities seem to have no clue about his employer or other local links to the dead person.
Speaking to Emirates 24|7, Indian social workers said they have been trying to locate friends or relatives of the deceased youth who would have turned 26 on 23 October 2012 as per his expired passport.
Ashraf, an Indian social worker in the UAE, said: "We came to know about this unclaimed dead body from Ajman police. According to the information made available to us, the married youth died on December 9, 2011 due to heart failure about three months after he was admitted to the hospital."
Normally, social workers trace the roots of accident victims or bodies of chronically sick or abandoned people through their expired labour cards or passport copy or any other item found on them.
A passport copy of the deceased made available to Emirates 24|7 indicates that his passport (E7142470) was issued on June 4, 2004 by the Kolkata passport office and is signed by the officer-in-charge PK Ghosh. The man was born at Mondalpara, North 24 Parganas district, West Bengal and the passport expired on March 3, 2009. His father's name is Nimai Mondal and their address is Abantipur Mondalpara, North 24 Parganas district, West Bengal 743127.
The death certificate issued by the UAE Ministry of Health on March 14, 2012 gives his address simply as Ajman. "Our volunteer network is confined to the South Indian community and we are not in a position to contact the relatives of Ranjit Mondal. The Indian Embassy or Consulate or Indian Associations too could not help," the social worker said.
Ashraf, who has sent home about a hundred bodies of Indians who died in the UAE, said this is the first time that he is finding it difficult to trace a dead man's relatives.
GMC Hospital officials are pretending to be in the dark about his admission to the hospital, apparently as an emergency case. Ranjit Mondal lay in the hospital for about three months, according to social workers.
"It is not easy to locate the roots of illegal workers though we could trace the roots of even a patient suffering from amnesia to Azerbaijan with the help of a wide network of NGOs and TV channels. One story about an unclaimed body was telecast by 17 Asian TV channels and finally the man's identity was ascertained with the help of an Arabic name on the locket of a chain on the body," said an Indian social worker.
"The authorities are ready to give free air ticket and help in repatriating the body or in cremating it locally. What they need is a no objection certificate from the dead man's relatives back home. Does Ranjit Mondal have any relatives in West Bengal or was his passport not genuine?" wondered a social worker handling the case.
Follow Emirates 24|7 on Google News.