US Navy open fire on boat near Jebel Ali, Indian fisherman killed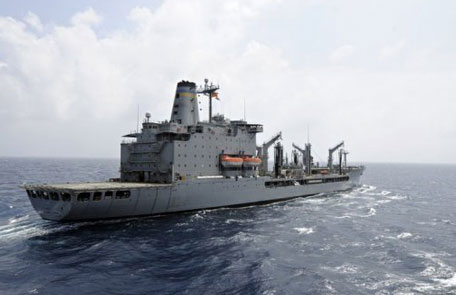 A US Navy supply ship opened fire on Monday on a fishing boat near the mouth of Jebel Ali Port in Dubai, a UAE Foreign Ministry official said.
Dr. Tariq Ahmed Al Haidan, Assistant to UAE Foreign Minister for Political Affairs, said an Indian fisherman was killed and three others, also Indians, were seriously injured.
''The UAE concerned authorities are investigating the shooting incident,'' he added.
In Rameswaram, Tamil Nadu, Karaiyur Fishermen Association President Malairajan said the dead fisherman has been identified as Sekar of Periyapattinam in Ramanathapuram district.
The injured are Muniraj, Panpuvan and Murugan who also hail from Ramanathapuram, he said adding Muniraj had been admitted to hospital with bullet injuries.
Malairajan said fishermen from Ramanathapuram district were working for Dubai fishing companies on daily wage basis.
Lt Gred Raelson, a spokesman for US Navy's Bahrain-based 5th Fleet, said a security team aborad the USNS Rappahannock fired from a .50-calibre machinegun on the boat after it disregarded warnings and raced towards the ship.
India urges probe into firing

India called on the United Arab Emirates on Tuesday to probe the fatal shooting of an Indian fisherman by a US navy ship in waters off Dubai, the Indian foreign ministry said.
"India's ambassador in Abu Dhabi has requested UAE authorities to probe the circumstances of the tragic incident," the foreign ministry's spokesman Syed Akbaruddin said.
MUST READ:


Countdown has begun: iPhone 5 official release date revealed



Emaar's name-and-shame drive forces landlords to pay up



...or else, no garbage collection in Springs, Meadows
Follow Emirates 24|7 on Google News.