Use Emirates ID as identity proof: Eida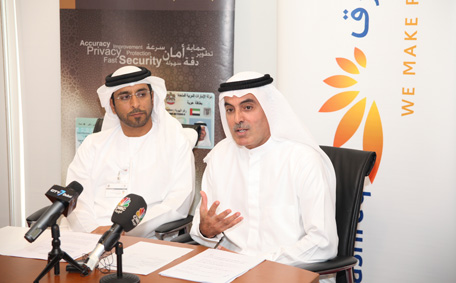 Private companies and government entities should ask for Emirates ID card rather than passport from customers as proof of identity, said Dr. Saeed Abdullah Al Ghafli, Director-General of Emirates ID Authority.
Replying to a query about some banks and companies asking customers to present both Emirates ID and passport as identity proof, Al Ghafli said, "By law, companies should ask for only Emirates ID as proof of their identity and nothing else. It's a traditional way that they're still following. Now they should only demand Emirates ID from customers as identity for transactions."
Al Ghafli was addressing the media during a press conference in Dubai organised by the Mashreq to announce integration of Emirates ID with all its bank processes, allowing customers to open accounts, pay their utility bills, carry out cash withdrawals and deposits, and update their personal information using the UAE identification card.
"We're encouraging other banks and government entities to ask only for Emirates ID," Al Ghafli said.
The director-general said more UAE banks will opt for Emirates ID's integration into their systems to the benefit of the UAE consumers.
He hoped that in the next few years all the banks will be able to offer the use of Emirates ID as debit and credit to their customers in day-to-day transactions.
After Abu Dhabi-based Shariah-compliant Al Hilal Bank, Mashreq is the second bank in the UAE to use Emirates ID for banking transactions.
Abdul Aziz Al Ghurair, CEO of Mashreq bank and Chairman of UAE Banks Federation, said equipped with the latest technologies, Emirates ID will make transaction easier and comfortable for consumers and banks will also be up-to-date with regard to information about customers.
For instance, even if customers switch jobs and get new Emirates ID cards, banks will come to know when they transact through the identity card.
Under the Emirates ID set-up launched by Mashreq, a customer can continue using old pin numbers and do not need to remember different pins numbers.
Through digital banking infrastructure using identity card, all customers' existing bank cards will appear on the ATM screen, allowing them to choose from a number of options, including cash withdrawal, bill payments, local and international transfers, cash and cheque deposit, cheque book and statement requests, and even update their mobile number.
The new feature will also enable customers to update their visa and passport details instantaneously, eliminating the need for physical visits to a branch.
Follow Emirates 24|7 on Google News.