Vehicle-monitoring traffic incident management system launched in Dubai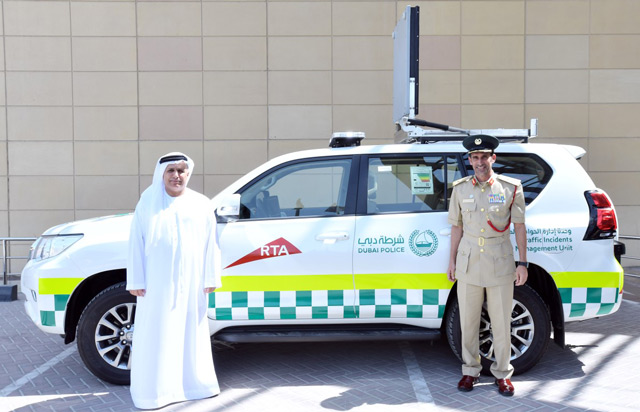 Mattar Al Tayer, Director-General and Chairman of the Board of Executive Directors of Roads and Transport Authority, RTA, and Major General Abdullah Khalifa, Commander-in-Chief of Dubai Police General HQ, yesterday launched the Traffic Incidents Management Unit vehicle.
The unit's vehicles will be deployed on a 70km stretch of the Sheikh Mohamed bin Zayed Road on a trial base for one year.
The launch of the Traffic Incidents Management Unit reflects the solid relationships between RTA and Dubai Police and their concerted traffic safety strategy, which is aligned with Dubai's strategy and traffic safety plans. The ultimate objective of this move is to make Dubai a safe and stable city that cares for the protection of lives and properties.
Al Tayer and Al Marri inspected one of the unit's vehicles that were fitted with advanced technologies such as interactive screens, communication devices among others. These vehicles will be stationed at five sites on the Sheikh Mohammed bin Zayed Road. Each vehicle will cover about 13km to ensure speedy access to accident scenes in no more than 10 minutes.
The unit will cater to vehicle breakdown, rapid intervention at the site and surrounding roads, and the handling of minor accidents that do not warrant the presence of the police. It will also remove vehicles involved in traffic accidents and restore traffic movement back to normal plus assessing damage inflicted to the infrastructure and file relevant reports. It will also carry out detours on-site or surrounding roads, assist road users, lend assistance to the police on site, protect parked vehicles and provide traffic support during events.
Al Tayer said, "The Traffic Incidents Management scheme culminates in the strategic relationship and coordination between RTA and Dubai Police. It aims to ensure rapid clearance of vehicles involved in minor incidents or experiencing a breakdown on roads besides alleviating snarls and streamlining traffic flow at the site.
"The scheme will cut short the time taken to remove affected vehicles and fend off potential secondary accidents triggered by the sudden traffic build up. The SMZ Rd was selected as it is a high traffic density area, especially in peak times, and has a high rate of minor traffic incidents and vehicle breakdown," Al Tayer added.
Major General Al Marri hailed the strategic partnership between Dubai Police and RTA and their coordination in streamlining traffic enforcement measures in the interest of citizens and residents of Dubai. He described the operation of the Traffic Incidents Units as a tribute to the strategic partnership between the two parties aimed at establishing an integrated system that supports the vision of Dubai.
"Dubai Police will investigate serious accidents, injuries, and traffic offences. It will also provide judicial support to the Unit, monitor traffic cameras and handle rescue operations among others."
"RTA will provide technical support to the Traffic Incidents Management Unit, and look after traffic diversions, light signals timings, virtual messaging signs, and tactical traffic signs. It will also monitor the traffic movement as well as response plans, in addition to cameras at the site and preparing the infrastructure for the trial site," Al Marri explained.
Comprehensive studies about the management of traffic accidents in Dubai show that about 250,000 vehicles experience a breakdown on roads each year, and about 200 minor traffic accidents occur in the Dubai annually. Studies also reveal that the Traffic Incidents Management scheme will reduce the accidents clearance rate by 35 percent, slash congestion and associated costs by 25 percent and curb the potential for secondary accidents.
Attendees of the launch of the Traffic Incidents Unit vehicle included Brigadier Dr Mohammed Nasir Al Razooqi, Director of Transport and Rescue and Brigadier Saif Muhair Al Mazroui, Director of Traffic at the Dubai Police. From RTA also attended Eng. Maitha bin Adai, CEO of Traffic and Roads Agency, Husain Al Banna, Executive Director of Traffic, and other directors.
Follow Emirates 24|7 on Google News.