Video: Cars on fire on Abu Dhabi highway; Eyewitness recounts heroic efforts of passer-by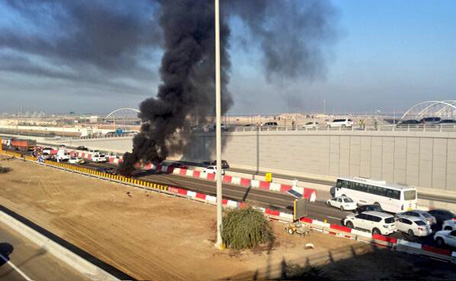 Video by Ahmed Bilal
Three cars have caught fire on the Dubai-Abu Dhabi highway, near the Al Raha Beach exit, resulting in a full closure of the road for the duration.
Civil Defence vehicles are on the scene since 9.30am, tackling the blaze.
Pakistani national Ahmed Bilal, who was one of the first few on the scene, and has taken a video of the incident spoke to Emirates 24|7 describing the incident as it unfolded and crediting a passer-by for his heroic effort in saving one of the three cars from the blaze.
Bilal said: "There are three cars involved in the accident, of which two are badly burnt.
"A third car, which you may see in the pictures, only has its rear badly damaged. This is due to the quick thinking and heroic efforts by a passer-by in a while Land Cruiser, who was one of the first few on the scene.
"This Arab man jumped out of his car and took out his tow rope to pull the third car to safety, which is now parked at a distance from the main blaze."
According to Bilal, he was en route to Abu Dhabi, where he works, when he noticed the accident around 9am this morning.
He recounted the incident, saying: "I first noticed a plume of smoke a few kilometres away and immediately took the Al Raha Beach exit, which gave me a good vantage point to see the accident."
While the Good Samaritan in the Land Cruiser managed to save the third car, a white and a black sedan were up in flames, with Civil Defence vehicles arriving on the scene within 15 minutes.
However, according to Bilal, due to people double and triple parking on the bridge and the emergency lanes, the movement of the emergency vehicles was thwarted to a great extent.
The road near the accident still remains closed due to the incident.
Bilal further added: "I counted five Civil Defence trucks, two ambulances and at least three police cars on the scene, all coming in from Khalifa City.
"I am sure more were arriving but the roads were blocked by bystanders and it was difficult to reach until official vehicles arrived on the scene to clear the traffic."
The accident has occurred approximately one km before the Al Raha headquarters.
Commuters are being asked to take alternative routes, with eyewitnesses saying to expect major chaos and traffic delays.

Car on fire on ABu Dhabi highway. (Fatima Al Haddad @ Twitter)
Follow Emirates 24|7 on Google News.