Video: Fire at Ajman building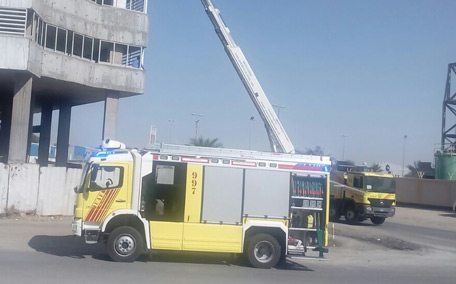 A fire in a residential tower under construction in Ajman damaged a number of new air conditioning units under installation in the new building.
The fire, on Saturday morning, was brought under control by the Ajman Civil Defence within a few hours, and none of the few hundred workers in different floors of the multi-storey building were injured.
"A fire broke out at around 11am in the parking, which is still under construction.
"More than 20 new air conditioning units were kept there for installing in different floors and many of them got burnt in the fire," said a worker at the work site, near Ajman port.
Ajman Civil Defence teams reached the site with firefighting equipment, and reached the area using a crane.
The fire did not spread to any other parts of the multiple tower project, for which final exterior and interior work is progressing.
"Workers got out of the fire area. There was initial panic but everything was brought under control after a few hours. Workers engaged in the final stages of the building work were looking down watching the firefighting exercise," said another worker, who rushed out of the building.
"Traffic through the road was regulated and construction work continued after the firefighting," added a Civil Defence official on the site.
Follow Emirates 24|7 on Google News.