Video: Short circuit cause of The Address hotel fire: Dubai Police Chief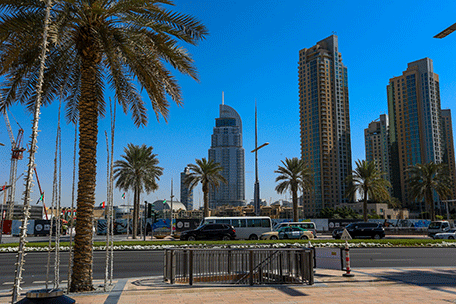 A fire that engulfed The Address Downtown hotel in Dubai hotel on the New Year eve was caused by an electrical fault, police said on Wednesday.
"It was an accident due to an electrical short circuit," Dubai Police Chief Khamis Al Muzainah told reporters.
"No one was arrested. There is no suspicion of a crime... There was no negligence," he said.
The fire broke out at the 63-storey The Address Downtown hotel on December 31. The hotel was evacuated by civil defence teams efficiently and only 16 people suffered minor injuries.
Ahmed Mohamed, Head of Criminal Department, confirmed that the fire began between 14 and 15 floors of the hotel at 9.25pm..
He said various competent teams from Dubai Police, Civil Defence and the Ambulance Department moved to the scene, in addition to the management teams, forensic and criminology department offiers, who worked on the compilation of all the data also listened to witnesses.
The cause of the fire was announced at a press conference held at the Dubai Police Headquarters. It was attended by Maj. Gen. Khalil Ibrahim Al Mansouri, Assistant Commander of Dubai Police for Criminal Investigation and Colonel Ahmad Mattar Al Muhairi, Director of the General Department of Criminal Evidence.
Al Muzainah thanked Sheikh Saif bin Zayed Al Nahyan, Deputy Prime Minister and Minister of the Interiorfor his follow-up. He also thanked Maj. Gen. Jassim Al Marzouki, Commanding General of Civil Defence, Maj. Gen. Rashid Thani Al Matrooshi, Director General of Dubai Civil Defence, and the civil defence departments of Abu Dhabi, Sharjah, Ajman, Ras Al Khaimah, and Fujairah that supported the civil defence teams in Dubai.
He praised the efforts of the General Directorate of Criminal Evidence team, who worked very hard to get to the cause of the fire.
Follow Emirates 24|7 on Google News.