Weather: Fog in Abu Dhabi; snow in Oman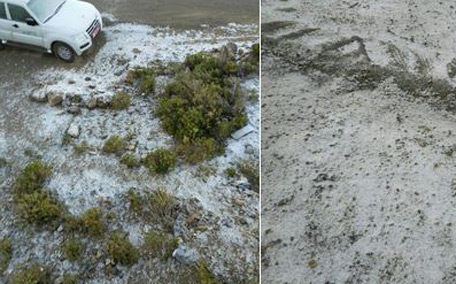 Motorists woke up to heavy fog and low visibility conditions in parts of Abu Dhabi, including Al Ain, even as the drop in Mercury put a chill in the air across most of the UAE.
The lowest temperature recorded today was 5.1 degrees Celsius in at 12.15am at Jebel Jais in Ras Al Khaimah, according to the UAE's National Centre for Metrology and Seismology (NCMS), while Oman is reporting near zero on Jebel Shams with reports on gentle snowfall on the peak.
Rainfall across the UAE on Wednesday brought about a drop in the temperatures, according to the weather department, even as a spike in humidity levels have given rise to early morning fog in many internal and coastal areas.
Storm RAK, a private weather monitoring team, reported flooded wadis in Ras Al Khaimah, with 42mm on rainfall recorded in the emirate alone yesterday.
The NCMS states the weather today will continue to remain partly cloudy, even as fresh winds blow up dust and sand over exposed areas.
The humidity will spike once again in the late evening hours, giving rise to early morning fog once again on Friday.
Those of you looking to cross the border for a weekend getaway to neighbouring Oman take note, the country has been battling its own weather system from the southeast and residents are now reporting snow on its highest peak, Jebel Shams.
Several Omani residents have taken to social media with images of fresh powder on the popular tourist spot, with Weather Oman tweeting at 8.30am on Thursday: "Jebel Shams is witnessing falling light snow, precipitation was recorded near-zero temperatures overnight."
Muscat is, meanwhile, experiencing light rainfall this morning according to its Met office.
Follow Emirates 24|7 on Google News.