Weekend weather: fog warning for UAE motorists; humidity to rise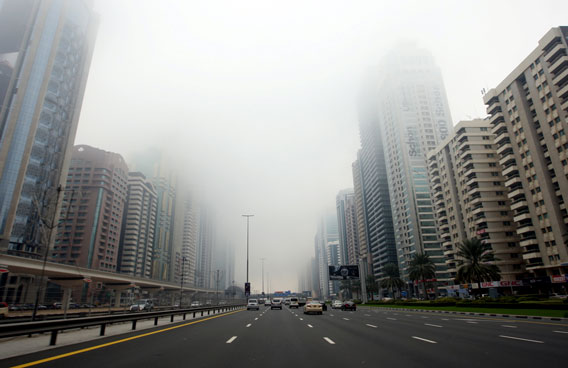 The National Centre of Meteorology and Seismology, NCMS, has urged motorists to be cautious due to low horizontal visibility caused by fog in various areas of the country.
In a statement on Thursday, NMCS said that the weather today will be fair in general, partly cloudy and hazy at times over some areas with a chance of some clouds towards the east. Moderate winds in general, freshening at times during the daytime, causing blowing dust/sand over various areas.
The statement added that the relative humidity will increase overnight and in the early mornings over some coastal and internal areas, with possible mist and fog formation. Seas will be rough, becoming moderate by afternoon in the Arabian Gulf and moderate in the Sea of Oman.
For Friday and Saturday, the weather will be fair to partly cloudy, with some towering clouds over eastern areas and mountains by the afternoon.
Winds will be light to moderate in general. Relative humidity may increase at night and in early mornings, and again some mist or fog may form over internal and coastal areas. Seas will be slight to moderate in the Arabian Gulf and the Sea of Oman.
Follow Emirates 24|7 on Google News.