Weekly health supplement from DMI, DHA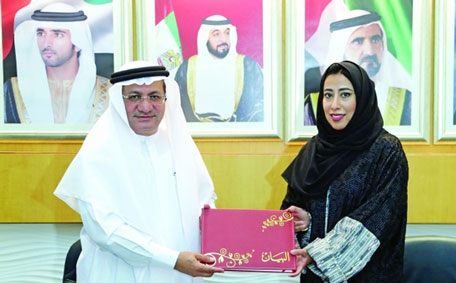 Dubai Health Authority (DHA) and Dubai Media Incorporated (DMI), represented by Al Bayan newspaper, signed an agreement to issue a weekly health supplement to promote healthy lifestyles for happy and healthy society.
Mona Ghanem Al Marri, Director-General of Dubai Government's Media Office, In-charge of overseeing publishing sector in DMI, and Humaid Mohammed Al Qatami, Chairman and Director-General of DHA, signed the agreement on Sunday at the Al Bayan headquarters.
Mona Al Marri stressed that the objective of issuing the supplement is to raise awareness in society as well as to provide information on leading healthy lifestyles, reported the daily.
She said concerted efforts from all quarters is needed to help people change to healthier lifestyles and that media plays an important role in helping raise awareness of the community by highlighting the complications and risks associated with chronic diseases that are caused by unhealthy lifestyles.
She added that His Highness Sheikh Mohammed bin Rashid Al Maktoum, Vice-President and Prime Minister of the UAE and Ruler of Dubai, has launched objectives for projects that ensure people lead healthier lifestyles, such as special places for jogging, cycling as well as designated areas to pursue physical activities.
Al Qatami said the fruitful cooperation between DHA and DMI towards the publication of weekly health supplement is an important quality addition and direct support to DHA efforts, which aims to develop awareness in the community about the government's aim to achieve healthy and happy society.
The weekly edition will be an important information window for customers about DHA projects and developments, he said and added that the supplement will also be a rich platform to know public opinion and their constructive ideas about DHA initiatives.
Follow Emirates 24|7 on Google News.