What to do if earthquake hits UAE?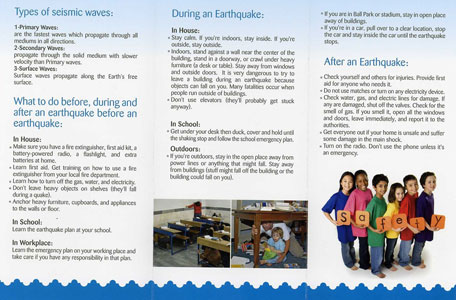 As part of various efforts to ensure the safety of people during natural calamities , Dubai Municipality's Survey Department has begun an awareness drive to educate people on safety measures to be taken with regards to earthquakes.

Eman Al Khatby, chief of the Geodesy & Hydro-graphic Survey Section at the department, said: "In this move we are concentrating on various government departments and employees in Dubai. We have conducted programmes at Dubai Courts, Dubai Police, Dubai Women's Club and General Directorate of residence& Foreigners' Affairs."

Activities included setting up boards at the entrance of the offices and distribution of informative leaflets.

She also pointed that there should be through analysis of the preparedness for any emergency, at each and every government department.

This action comes in the wake of increased activity in southern Iran. and The UAE experienced serious tremors on April 16, causing people to evacuate buildings and exposing a general sense of awareness of how to react to such a scenario.

At the time, Mohammad Mushroom, Director of Survey Department at Dubai Municipality, was quoted as saying, 'The municipality has taken all measures and procedures necessary to ensure the safety of the facilities and the people in Dubai through detailed studies to assess the seismic risk and the use of high structural standards."

Earlier Al Khatby, said the municipality has been conducting awareness campaigns constantly about earthquakes and safety measures for schools, colleges and government agencies and preparing brochures, booklets and signboards for distribution to government departments in Dubai.
Follow Emirates 24|7 on Google News.