What will Dubai look like in 50 years? Dubai Frame will tell you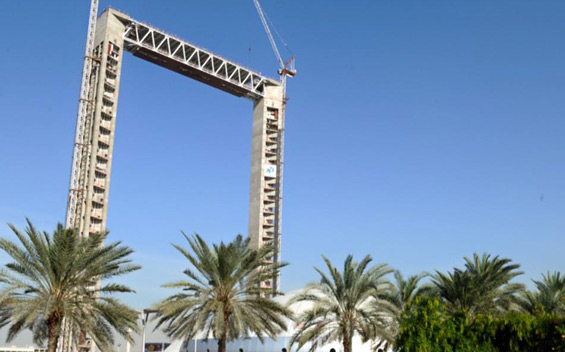 It won't be too long before the emirate witnesses the unveiling of the iconic Dubai Frame.
According to officials at the Dubai Municipality, the Dubai Frame will "be open to public (in) the second half of 2016."
Talking to Emirates 24|7, Shaza Mohammed Bushra Fouad, architect at the General Project department of Dubai Municipality, said the landmark's concept 'reflects a journey through time'.
While the frame will provide glimpses of Dubai's past and present, it will also offer a vision of what the emirate will look like 50 years from now, she said.
Talking in-depth about the Dubai Frame experience, she said: "Starting at the mezzanine level, where visitors will enter into an 'immersive experience' representing Dubai's history. Projections, effects like mist, smell and motion, will set the mood."
The journey through Dubai Frame will be divided into past, present and future galleries.
"The past gallery will embody the idea of the project and narrate the story of the evolution of the city. It will show the old city using projections that capture the renaissance in Dubai.
"After that the visitors will be directed to the second experience on the sky deck, which will represent the present Dubai.
"Visitors will experience uninterrupted views of Dubai from all sides – 'old Dubai' in the north, and 'new Dubai' in the south.
"This will be supported by interactive applications such as augmented reality activated screens, whereby the visitors can identify different buildings and landmarks, explore interesting facts, and learn more about Dubai's architecture, economy and infrastructure.
"The final experience will be on the other side of the mezzanine level, where the visitor will be introduced to Dubai 50 years from now.
"The visitors will exit the elevator on the mezzanine floor to pass through a vortex tunnel with special lights and sound effects.
"The idea is to create an illusion of time travel through a warp vortex and arriving into the city 50 years ahead.
"An immersive 'Virtual Metropolis' experience is created on the walls by means of interactive projections, light and sound to create the city of the future."
She said, "The project took around two-and-a-half years" to build at a cost of Dh205 million.
The official, however, was unable to confirm what the entrance fee will be.
"It is not finalised yet/ operational."
Follow Emirates 24|7 on Google News.