Wife killed, 2 kids hurt after dad rams into truck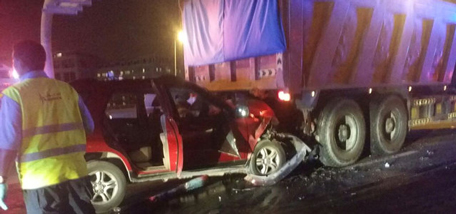 A woman was killed and her two children were seriously injured when their car driven by her husband rammed into a truck which was parked on the road in Dubai after a tyre blast, a newspaper reported on Saturday.

The truck driver stopped his vehicle on the third lane of Al Khaleej crossing bridge because of a trye burst and started the hazard lights before stepping out of the truck to call the police, the Arabic language daily Emarat Al Youm said.

As he was making the call, a speeding car violently banged into the rear of his vehicle, resulting in the death of the woman who was sat next to her husband.

Their two children and two other men suffered from serious injuries.

"Police said the driver was speeding and could not control his vehicle when he saw the parked truck," the paper said without mentioning what happened to the driver.
Follow Emirates 24|7 on Google News.