Will more UAE commuters use public transport?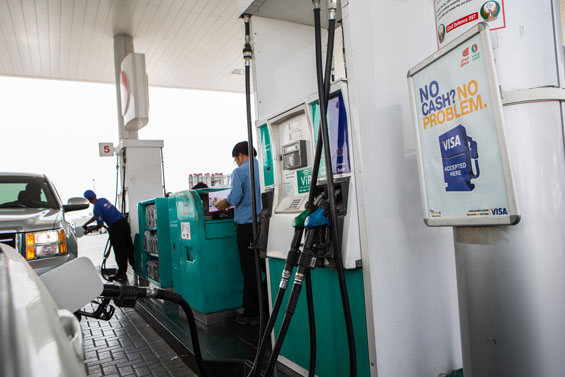 Car ownership in the UAE stands at 480 per 1,000 people, one of the highest rates in the world.
Hot weather, superb roads infrastructure, and availability of relatively cheap fuel are certainly incentives to own and drive a car in the UAE.
As of August 1, 2015, fuel prices will no longer be regulated and a new pricing policy linked to global prices will be adopted.
With fuel prices subject to fluctuation on a monthly basis, UAE residents will be encouraged to use public transportation, said Suhail Al Mazroui, Minister of Energy as the Ministry announced the step.
Currently, public transport accounts for just 14 per cent of the number of journeys made. Will this change once petrol price is deregulated?
Dubai's Roads and Transport Authority (RTA) has aimed at an increase in reliance on public transportation from its inception. It eyes a 20 per cent rate by 2020.
Judging by the course of history, a downward trend in the use of cars and upward trend in the use of public transportation is evident.
Car ownership in 2006 was 541 per 1,000 people; this was before Dubai Metro connected the most important places in the emirate.
The emirate now hosts 421km in Metro and tram network, 3,000km in bus network and 450km in water transportation routes.
While 31 per cent of public transportation trips were made by metro, 26 per cent were made by bus and 3 per cent by marine transportation, according to last year's figures.
What is on offer?
Although there are no concrete plans on the table to respond to the recently announced move of petrol price deregulation, the RTA says it has an assessment system in place, allowing for an adequate response to any increase or decrease in passenger numbers.
"We adjust the Metro timings according to passenger demand, and we assess this demand on a daily basis," said Muhammad Mudharrab, Director of Rail Operations at the RTA.
"The peak season starts in September, this is when we usually increase Metro frequency," he said.
Earlier, the RTA told 'Emirates 24|7' additional trains will be added to the fleet to help increase the metro's frequency.
"The RTA is planning to buy between 25 and 35 new trains by 2020," Hassan al Mutawa, Deputy Director at the same department had said.
"It will be interesting to see what this will do to the number of passengers. In general, the number is on the increase. Even when the Nol card prices went up, the number of riders increased," said Mudharrab.
When it comes to the expansion of the bus network, things will go according to the original plan outlined by the RTA, said Muhammad Abulhalim, Director of Bus Department at the RTA.
International City, Jumeirah Village, Dubai Investment Park and Dubai Design District will be added to the bus network of the emirate this year. Further, 400 bus shelters, 400 ticket machines and 150 new bus drivers will be added, and the Mall of the Emirates bus station will be refurbished, explained Youssef Al Ali, CEO of Public Transport Agency to this website earlier.
What residents think
"It might encourage me to use taxis more, but I do not think it is quite sufficient to encourage me to use buses. If I had a long daily commute, I would consider the Metro," said James Coyle, a British resident who lives in Downtown Dubai. "I think it will increase my spend by about Dh60 a week, equivalent to two trips to Starbucks. I can absorb that," he added.
"Everybody in any country reacts differently to scenarios such as an increase in fuel prices, but eventually people adjust, ignore and keep using their cars," believes Kinana Homsi Mardini, a Syrian mother who lives in the Greens.
"Lucky people who live and work in locations very close to Metro or shuttle buses might benefit from transportation as a better and cheaper alternative. Personally, I will never stop using my car. Reasons; weather, time, tight schedule."
TG, a British resident in Dubai just bought his first car. "I find having a car very helpful. Rather than being squeezed by strangers and not in control of the conditions, having your own car is a luxury. I would not go back to using public transportation," he iterated.
"Dubai is all about luxury living and high living standards," said Sami al Jundi, a Syrian resident living in Discovery Garden, admitting he would not opt for public transportation as he finds it time consuming.
"Everything depends on the increase rate," said Nour Houda Souri, another Syrian resident in Discovery Garden. "We will be using our cars no matter what, as it is a huge time-saver and because the heat in summer is unbearable."
Follow Emirates 24|7 on Google News.