Will super-skyscrapers be built within months in UAE?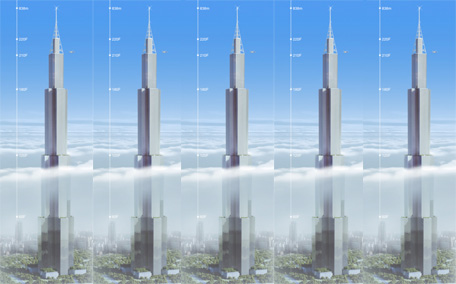 Yes, that is a possibility as Gulf Cooperation Council companies, including major developers from the UAE, have already visited the headquarters of Broad Sustainable Building, a Chinese construction firm that specializes in building hi-rises in months, looking at setting up local franchises.
Juliet Jiang, Senior Vice President, Broad Group, in a telephone interview with Emirates 24/7, ruled out their plans of setting up any office in the UAE, she said the company follows a franchisee business model for overseas expansion.
"What we do now is to transfer the technology to our franchisees who are to set up local factories. We have received many famous companies from GCC countries for Broad Sustainable Building (BSB) business."
Last year, Broad Group announced plans to build the 220-storey Sky City in Changsha, 10 metres taller than the 828-metre Burj Khalifa, currently the world's tallest tower, once they get approval from the government.
In order to build the tallest tower, the Chinese company will use the same factory-built module technique on a mega scale that was used to construct the T30 tower, a 30-storey hotel in Hunan province, which BSB built in 15 days.
To construct Sky City, a 16,000 strong workforce will build the wall and floor panels over a six-month period with the electrics, plumbing, flooring and air conditioning being installed in the panels before they are shipped to the construction site. Pieces will be set up just like a Lego set.
BSB claims the technique is energy efficient, reduces the need for cement and is one third of the cost versus traditional building techniques.
Sky City is expected to have residences, offices, elementary and secondary schools, kindergarten, old people's home, healthcare hospital, store, hotel, sports and entertainment centre, 17 helipads and house nearly 30,000 people.
According to the Council on Tall Buildings and Urban Habitat, the UAE is ranked third on the list of countries having most buildings taller than 200 metres. In Dubai alone, there are 65 buildings over 200 metres with the maximum being on the Sheikh Zayed Road corridor, the council data reveals.
ALSO READ:
Emirati, Pakistani family killed in car crash near Sharjah



Your workplace: 5 warning signs that it's time to quit your job



Abu Dhabi Group, property tycoon to build world's tallest building in Pakistan
Follow Emirates 24|7 on Google News.