Will you buy gold in 2015 as prices projected to come down?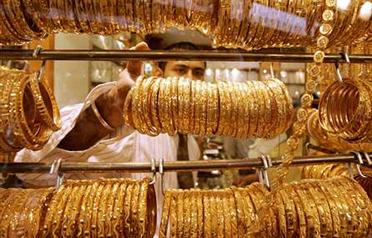 The yellow metal market witnessed wide fluctuations in price in 2014. In the New Year, investors can look forward to relatively lower gold price in the international market, as some of the biggest gold investors and gold reserve holders may sell the metal to tide over current financial pressure from lower oil prices.

Speaking to 'Emirates24|7', leading gold and jewellery investors and traders said the price fluctuation in 2014 and the lower gold prices by the year-end is a welcome trend and gold price may continue to remain low in the New Year. Gold jewellery retail sales in Dubai will increase by at least 25 per cent, due to the lower gold prices, but tourists from Russia may not be buying gold as they used to do in the past.

Sunny Chittilappilly, Vice-Chairman of Dubai Gold and Jewllery Group, an industry organisation representing leading jewellers in Dubai, said: "On December 31, 2013 gold price was $1,206 per ounce. Last week, on December 29, the international gold price was $1192. In fact, gold price fluctuated by $150 per ounce the entire 2014, reaching up to $1300 per ounce two months ago. We expect the gold price to be moving in the downward direction because the market expects big and heavy investors to sell gold, rather than buy.

"Heavy investors such as China and Russia may sell their gold reserves to overcome temporary financial difficulties and in the case of Russia, gold sales may be an option to overcome the pressure on rouble, which has depreciated due to low oil price revenue. Oil price has come down by almost half to less than $60 per barrel, putting pressure on the Russian economy."

If the dollar continues to gain strength and the US interest rates go up, investors will put money in dollar and not gold, he added.

According to reports from investment bankers and financial advisors, Russia, which is one of the world's largest oil exporters acquired 115 tonnes between January and September, and another 18.9 tonnes to its reserves in October.

According to the International Monetary Fund data, Russia purchased gold at a faster pace in 2014, taking advantage of lower gold prices. Central Bank of Russia may be selling gold reserves in December 2014 and gold reserves dropped by $4.3 billion in the first week of December 2014.

Longest handmade gold chain

Meanwhile, as part of the month-long Dubai Shopping Festival, the world's longest handmade gold chain, is now available for pre-booking at all 500 participating jewellery outlets and kiosks.

The Dubai Gold and Jewellery Group has set up special kiosks in Al Ghubaiba, Deira Gold Souk, Dubai Mall, Global Village, Lamcy Plaza, Lulu Qusais, Oasis mall, and will open one in Burjuman shortly.

The manufacturing concessionaries of the chain include Malabar Gold & Diamonds, Siorya Jewellers, Sky Jewellery, Joyalukkas and Emerald Jewellers. The chain is expected to have approximately 4 million links made manually by hand. Going by the demand it is anticipated that the length of the chain could even go up to 8km.

The options available for purchase include, bracelet weighing 8 grams or the chain in different weights from 20, 22, 24 and 26 grams. Shoppers have to fill up a pre-booking form and make necessary payment for the selected item. The chain will be sold at a retail price of the prevailing market rate of 22 ct gold, plus Dh5 per gram as making charges.

The chain will be packed in a specially designed case that comes along with a certificate. Customers will also be able to participate in the biggest raffle promotion organised by DGJG to win 100 kg gold and 40 carat diamonds jointly offered with World Diamond Mark.

The raffle coupons are offered on each option - 3 coupons for 8 gm bracelet; 6 coupons for 20 gm chain; 7 coupons for 22 gm and 24gm chains; and 8 coupons for 26 gm chain.

The product along with the raffle coupons will be delivered after the Guinness adjudication process, tentatively scheduled to be held on January 11, 2015.

Tawhid Abdullah, Chairman of Dubai Gold & Jewellery Group said, "We have come a long way with the DSF celebration and with this attempt to set another world record to mark 20 years of collaboration with DFRE, we further strengthen our vision to promote Dubai as the City of gold and the jewellery destination of the world."
Follow Emirates 24|7 on Google News.