Windfall for Emirati in Nissan Grand Raffle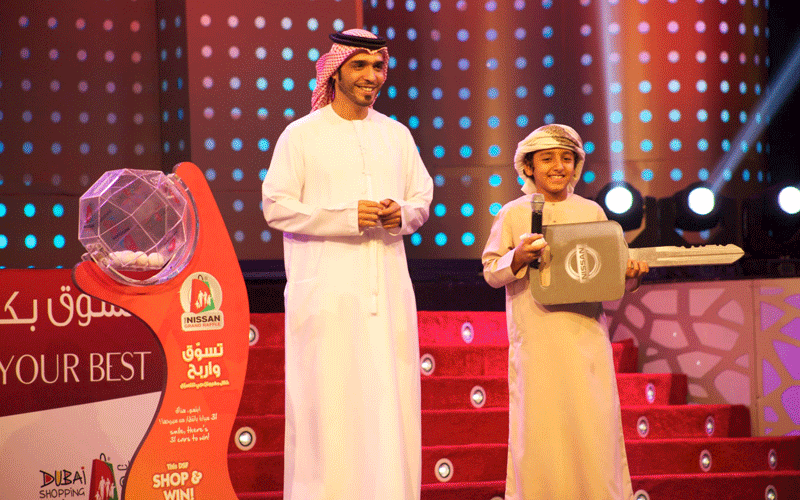 Hoda Saif, who works for a government entity in the UAE, is a regular viewer of the DSF Mega Raffle draw ceremonies on TV that are telecast live from the Global Village every day. But one day she missed the telecast. Coincidentally, it turned out to be the same day she won the Nissan Grand Raffle, one of the Mega Raffles of DSF 2014.

Since 2007, the Emirati mother of four has been receiving coupons during DSF, for day to day needs that she avails at different gas stations. Never too keen about participating in the raffles, she once again received coupons on purchase of an Etisalat phone pack. Rather than throwing away the coupons, she instead decided to drop them in the raffle box.

"I love watching the draws being telecast live every day. I like the smiling and happy faces of people when they win the raffles, but I never expected to win myself," said Hoda.

"I received several calls from Global Village the night I won but I wasn't able to answer. Next morning, when I was just about to return their calls, they rang me again and informed me that I had won the Nissan Grand Raffle. I did not believe it at first. I thought someone was joking with me," added an overjoyed Hoda.

Hoda was invited to enter into the second part of the draw to pick the lucky Nissan model that she was going to drive away with. She gave the honour to her son, Issa Ahmed Al Sowidy, who made his mother the proud winner of a Nissan Sunny model.

Speaking about her plans for the grand prize, Hoda said that she wants to sell it off because it's too small for her big family.

The Nissan Grand Raffle is offering one lucky DSF shopper the fabulous chance to win one of the 14 top models from the brand's eclectic line-up of cars and SUVs that includes top models such as Pathfinder, Armada, Murano, Xterra, Patrol, Qashqai, Juke, Maxima, Altima, Sunny, Tiida, Micra Hatchback, Sentra and the sports car 370Z.

Raffle coupons for the Nissan Grand Raffle can be obtained at Enoc and Eppco stations by spending a minimum of Dh20 towards non-fuel purchases.



Follow Emirates 24|7 on Google News.