Women exempt from Dubai night driving test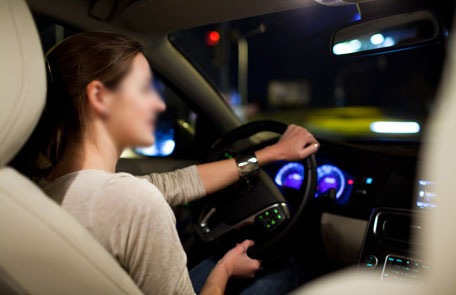 While men are required to pass a night driving test before obtaining a driving licence in Dubai, women are exempt from this rule.
Earlier this year, the Road and Transport Authority (RTA) implemented a new driving exam curriculum.
"The night driving test is meant to test the ability of new drivers to drive in the dark, which is different from driving during the day," explains Ahmad Hashim Behroozian, CEO of the RTA Licensing Agency, which is responsible for the unified tests of Dubai's driving schools.
"However, the implementation has led to some problems, and right now we are looking at ways to solve these problems," Ahmad explains.
"For some women, driving a car after daylight hours in the presence of a male instructor is problematic," Ahmad explains."Therefore, we have decided that only male driving students need to pass this test.
"For female students, we are looking at other options. But at the time being, females are exempt from this test."
Drivers generally experience different conditions while driving during evening hours, which needs additional knowledge.
"The first time I drove during the evening I did not know which lights to use.
"I did not know whether to use the high beam lights or the low beam lights. I had to figure this out myself," says S. Kumar.
"We do not want driving students to experience new situations for the first time without the presence of a driving instructor," explains Ahmad.
It is an essential part of the curriculum.
But, understanding goes out to the particular needs of the students.
"Especially women from this region are not comfortable with the idea, and we respect these feelings," says Ahmad.
Fatima H., a Syrian woman living in Dubai is happy with the understanding of RTA.
"My husband would not feel comfortable with me sitting in a car with an unrelated man during driving classes, neither do I.
"It is not that I am scared, but it is something that I am not used to, so it makes me uncomfortable."
Other women indicated that it would not be a problem for them.
"I would not mind these classes, and I think it would be beneficial.
"After I obtained my license, I did feel a little anxious driving in the evening. But, I felt the same anxiety when I first drove a car during the day without an instructor. These are things you get used to very easily," says Susheeta Kameer.
Dubai may cut speed limit on roads
Dubai is considering reducing the speed limit on its roads within its 2020 traffic strategy targeting zero deaths by curbing serious accidents, the emirate's traffic chief was reported on Saturday as saying.
The region's business and tourism hub could also halve the grace speed limit given to motorists on most of its roads as part of that strategy which aims to put Dubai on par with advanced nations in terms of road safety.
"There are some measures that have to be taken in order to remove all obstacles that block the full implementation of the road safety strategy," Major General Mohammed Al Zafin told the Sharjah-based Arabic language daily Al Khaleej.
"Grace speed limits of 20km have to be cut to 10km as this will reduce speed on roads and cut accidents by 25 per cent…speed limits of 100km on roads where there are pedestrian crossings have to be reduced to 70km with a grace speed of 10km…this means the maximum limit must be 80 km."
Zafin said the 120-km speed limit on external roads should also be cut to 110 km, adding that such a step would lead to a 10-15 per cent drop in mishaps.
"The measures should also include forcing passengers to use the sea belt in the back seats as this will reduce injury rates by nearly 10 per cent."
Zafin said the emirate's traffic strategy has already paid off as the road death rate has steadily been cut since 2007 to reach 152 in 2010, a rate of 4.5 persons for every 100,000. "This is a positive indicator…although we are sorry for the deaths, we have become certain the strategy is moving in the right direction," he said.
Zafin said speed limit changes became imperative after a police report showed all accidents were caused by the drivers. "We have not received one single report blaming the road for any mishap…that is why we have to target the drivers in our strategy… this can be done only through the police system, which possesses the necessary tool to deter the drivers."
Follow Emirates 24|7 on Google News.