Women's shelter needs Dh2.5m for new premises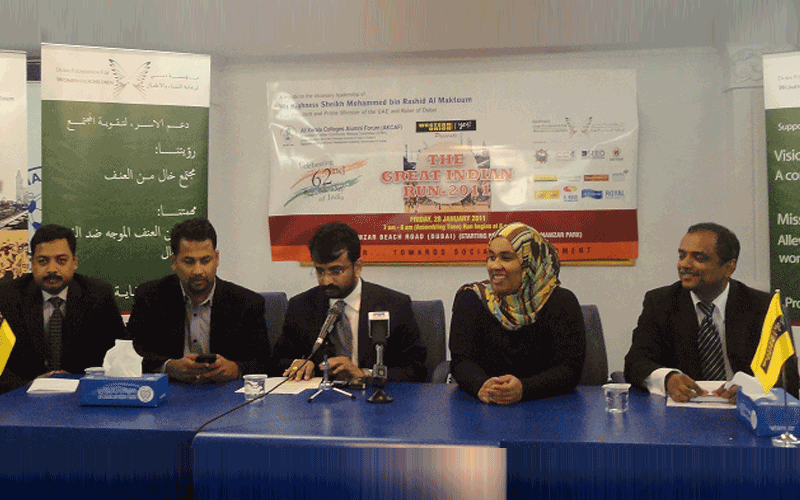 The Dubai Foundation for Women and Children (DFWC) is appealing for funds to build a new shelter as the current one that has about 65 women in the age group of 26 to 40 years, is old and insufficient.
Ohood Al Suwaidi, Communications Director, speaking to Emirates 24|7, said apart from the 65 women, it is also sheltering more than 10 girls, who are victims of abuse and domestic violence, in a separate location.
DWFC is the first licensed non- profit shelter and rehabilitation facility in the UAE for women and children, victims of domestic violence, child abuse, and human trafficking.
DWFC is joining hands with an Indian colleges alumni group, All Kerala College Alumni Forum (AKCAF), to organise a fund raising marathon as part of the Indian Republic Day celebrations in the UAE on January 26. AKCAF represents thousands of former students from about 50 Indian colleges and universities currently working or doing business in the UAE.
'The Western Union Great Indian Run 2011' from 8am will raise funds for building a new shelter building, at an estimated cost about Dh2.5 million. Proceeds from the coupon sale to register for the Great Run (Dh10) and sponsorship will go to the DWFC shelter project. Corporate members are urged to participate in the programme as part of their Corporate Social Responsibility.
The DFWC-AKCAF marathon at the Mamzar Beach is sponsored by Western Union. The run will be led by Sanjay Verma, Consul General of India, Dubai, along with Indian social association leaders and members of the Welfare Committee, students from various schools, AKCAF family members and corporate leaders.
"Other emirates in the UAE, except Dubai and Abu Dhabi, do not have their own proper shelter for human trafficking victims or victims of domestic violence, especially expats. Sharjah has a shelter, but only for Emirati victims. We plan to build a new shelter because the current building is very old," Al Suwaidi said.
Most of the children sheltered by the foundation are escorted by their parents to the UAE or abandoned here. They are sheltered in a villa and the foundation accepts boys up to 11 years of age and girls. More than 10 girls are sheltered and they are being sent to school.
The foundation was started in July 2007 by His Highness Sheikh Mohammed bin Rashid Al Maktoum, Vice-President and Prime Minister of the UAE and Ruler of Dubai, in accordance with international human rights obligations that the UAE government adheres to through the ratification of the UN Women and Children's convention.
The organisation is planning to start an awareness campaign about child safety and sexual abuse.
Al Suwaidi said the organisation is taking a serious view of the domestic violence in Emirati society. "Most often domestic violence occurs between intimate partners and not only includes physical violence, but also verbal and emotional abuse."
In April 2011, the foundation is organising a Sexual Assault and Child Abuse Awareness month.
Machingal Radhakrishnan, President, AKCAF, said the objective of conducting the marathon is to pay a tribute to the visionary leadership of Sheikh Mohammed, create awareness among Indian community to pay back to the UAE, the country of their residence, encourage and motivate to reach out to the needy and promote DFWC and empower women and children who are victims of violence.
The programme is also intended to broaden the ties between the UAE and Indian community.
Follow Emirates 24|7 on Google News.