World Expo an opportunity for students: Nahyan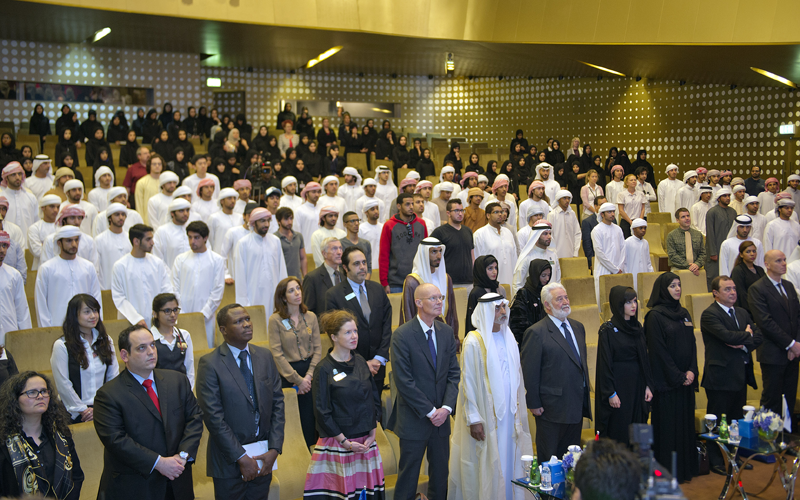 Sheikh Nahyan bin Mubarak Al Nahyan, UAE Minister of Higher Education and Scientific Research, today discussed the importance of education with students from Zayed University and the Enquiry Mission from the Bureau International des Expositions (BIE), the inter-governmental organisation in charge of overseeing the selection of World Expo host cities.
During his speech, Sheikh Nahyan said that World Expos represent a wonderful opportunity for students to learn and interact with people from different cultures, organisations and countries from around the world as they prepare themselves for future roles in an increasingly competitive and globalized environment. Sheikh Nahyan also highlighted to the Enquiry Mission from the BIE the crucial role education has played in the UAE's development and continues to play in its future growth.
"With one of the world's youngest and most dynamic populations, education will continue to be a priority for the UAE. Education is at the heart of our nation's continued quest for excellence as we transition to a knowledge-based economy. It is the primary foundation of the next generation's development and the best possible means of nurturing the innovators and entrepreneurs of tomorrow," Sheikh Nahyan said.
Also present were Sheikha Mariam bint Mohammed bin Rashid Al Maktoum, Dr. Sulaiman Al Jassim, Vice President of Zayed University, Dr. Ali Rashid Al Noaimi, Vice Chancellor of the United Arab Emirates University and Dr. Tayeb Kamali, Vice Chancellor of the Higher Colleges of Technology.
The Enquiry Mission visited Zayed University following a morning tour of the RTA, Dubai Airports and Emirates Headquarters highlighting the UAE's strength in infrastructure that would allow easy access for the 25 million expected visitors, of which 70 per cent would come from outside the host nation for the first time in the history of World Expo.
Dubai, UAE, is competing against four other candidate cities bidding to host the World Expo 2020. The winner will be announced in November 2013 following a vote by the 163 member nations of the BIE.
MUST READ:
Follow Emirates 24|7 on Google News.