World record in UAE for longest twin vehicle drifting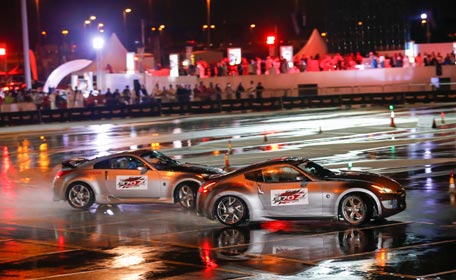 A new Guinness World Record has been set in Dubai for the longest twin vehicle drifting.
Two Nissan Z cars drifted around a track at the same time without stopping for 28.52 kilometers.
The record was set at Global Village by Ahmad Daham from Jordan and James Deane from Ireland.
The two drivers took two attempts to set the record after Guinness World Book of Records officials set a minimum distance of 25 kilometers to create the new record.
The record consisted of the both drivers making their cars drift around a specially made track in close proximity to each other in a 'twin drift' routine that took 44 minutes to complete. This will now offer anyone the opportunity to learn and perfect the art of drifting.
The drifting fever was evolved back in 2009, when the first regional drifting competition was launched.
Over the years, this has significantly grown to be one of the most awaited events across the Middle East, with attendance exceeding 15,000 per country.
The longest vehicle drift was set earlier this year in Turkey, set by Harald Müller who slid for 89.55 miles. The fastest drift was recorded in 2013 by Jakub Przygonski when he went sideways at 135.44mph in Poland.
And the record for the most amount of cars performing donuts simultaneously was set in 2012 and stands at 107.
Follow Emirates 24|7 on Google News.