World's largest black diamond on display in Dubai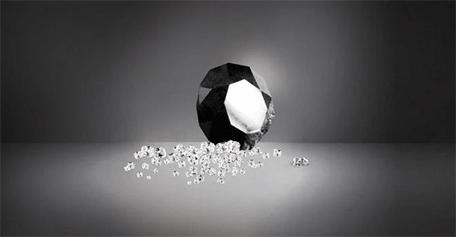 The world's largest black diamond was unveiled at an outlet in Dubai Mall.
The French luxury diamond brand, Korloff Paris, has flown in one of the world's largest known black diamonds, Korloff Knoir Diamond, believed to have originated in Russia and eventually owned by several generations of a Russian noble family, Korlof Sapozhnikov, who lived in St Petersburg.
The Korloff Company, which was founded by the firm's CEO and French jeweler, Daniel Paillasseur.
Speaking to Emirates 24|7, Korloff Paris officials said the French jewllery chain, with about 50 boutiques worldwide and more than 450 points of sales, has opened its renewed outlet in Dubai Mall.
"We have flown in this black diamond to the Dubai mall outlet for the inaugural event," said a company spokesperson.
According to the legend, the Korlolf diamond brings happiness, luck and prosperity to any person who has the privilege of touching it." Daniel Paillasseur, Chairman of the Board of Korloff Paris unveiled the legendary Korloff Noir Black diamond that has inspired many creations by the diamond jewllery company.
The expensive black diamond which was 421 carats before it was cut and polished, is now 88 carats. According to, it is insured for $37 million (Dh136 million). Not every one can touch the black diamond and it is sealed to prevent every one touching it. The 200 sqaure meter outlet is located in the Gold Souq and Watches area of Dubai Mall.
"We plan to open our new outlet in Abu Dhabi. The demand for diamond ornaments, especially the premium pieces, is still good in the UAE, Kuwait, Saudi Arabia and other GCC countries.
While in European countries, there may be a reluctance to buy a diamond necklace worth $1 million or more, many customers are in the GCC will still buy such pieces," she said, adding that the most expensive diamond necklace from Korloff Paris is worth Dh 5 million. "This market could be doing better, but we are happy with the current market situation."
Kareen Phieippe, Marketing Manager Korlof Paris said the market condition in the UAE and other GCC countries for luxury diamond jewllery is encouraging, though there is a lull in the European market. "The most expensive diamond necklace from Korloff Paris is worth Dh 5 million and there are many items with prices above Dh 1 million. Many customers in the GCC are serious buyers of these diamond jewllery. Our outlets in Kuwait and Saudi Arabia are doing well. We plan to open out new outlet in Abu Dhabi," she said. Karloff Paris also makes Swiss watches, perfumes, spectacles and writing instruments.
Follow Emirates 24|7 on Google News.