World's tallest hotel finds home in Dubai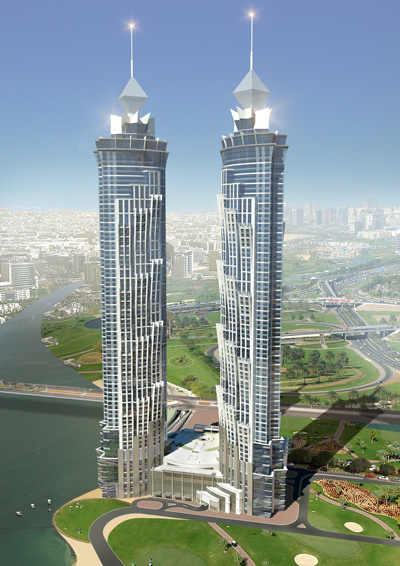 If Dubai is referred to as skyscraper city, then this concrete jungle has earned its title with panache.

Architectural marvels are peppered around the emirate, ruling majestically from dizzying heights, while the infrastructure grows at a rapid pace in their monolithic shadows.

Was it a surprise then the announcement came that the world's tallest hotel will find its way to our shores?

At a height of 355 meters, the JW Marriott Marquis Dubai will overtake Rotana's Rose Rayhaan, which stands tall at 333m, to become the largest dedicated hotel tower in the world when it opens its doors in the fourth quarter of 2012.

For those looking for some perspective, the JW Marriott Marquis Dubai will stand tall a mere 26m shy of the Empire State Building in New York.

The 1,608-room juggernaut will open in two phases, with the first section featuring 804 rooms and numerous restaurants and lounges, which will open by Q4 2012.

Meanwhile the second tower, which will also be a hotel, is scheduled to open by 2014.

The other two properties to round up the top four tallest hotels includes the Burj Al Arab, which stands at 321m, followed by the Jumeirah Emirates Towers Hotel at 309m.

Before you scream Burj Khalifa's 828m or the Makkah Clock Royal Tower's height of 601m, we were duly informed that neither of the structures are dedicated hotel towers; while the former is indeed the tallest building in the world, it only houses the Armani Hotel and Residences from the concourse level to level eight and levels 38 and 39.

Meanwhile, Saudi Arabia's juggernaut Makkah Clock Royal Tower is home to the Fairmont, but also houses private residences on 24 floors above the hotel.

Being marketed as a future business hub, the JW Marriott Marquis Dubai is expected to target the growing MICE (meetings, incentives, conferences and exhibitions) market of Dubai.

"The potential to cater for the growing needs of the global business community is huge and we believe the JW Marriott Marquis Dubai is uniquely placed in that regard," said Rupprecht Queitsch , general manager, in a statement.

He added: "The hotel will fill a long identified gap in the market where groups, meetings and conventions of up to 1,000 people can meet, sleep and dine under one roof, in one location.

"There are businesses of this size choosing various cities around the world in which to meet, but until now, Dubai has not had a single location of this size to accommodate this type of group… we will establish Dubai on the global conference market landscape."

The hotel is marketing its dedicated 5,000 sqm of event space, along with nine restaurants and five lounges, a world-class spa, a health club and two ballrooms.
Follow Emirates 24|7 on Google News.