FARC hostage release begins in Colombia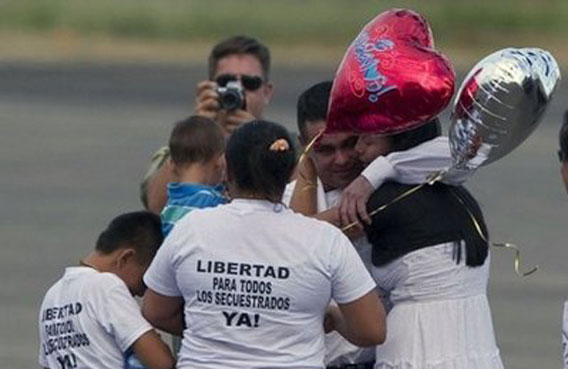 Colombia's FARC guerrillas on Wednesday set free the first of five promised hostages as they began the most significant release of President Juan Manuel Santos' tenure.
The guerrillas freed Marcos Baquero, 33, to intermediaries at an undisclosed site in the central Meta department. He was flown to Villavicencio, 95 kilometers (60 miles) south of Bogota, aboard a Brazilian air force helicopter with Red Cross markings.
A crowd of supporters and co-workers cheered and clapped as Baquero's wife Olga and sons Samir, 10, and Emmanuel, two, rushed to meet him on the tarmac and covered him with hugs and kisses.
The ex-hostage presented his children with an ocelot - a wild cat common in parts of South America - that he brought from the jungle along with a sketchbook full of pictures.
Guerrillas with the Revolutionary Armed Forces of Colombia (FARC) kidnapped Baquero, a local councilman and member of Colombia's Green Party, in late June 2009.
He was released earlier Wednesday to a team of intermediaries that included former senator Piedad Cordoba, two ICRC delegates, and a representative of the NGO Colombians for Peace, said International Committee of the Red Cross (ICRC) spokeswoman Maria Cristina Rivera.
FARC rebels have pledged to release a Colombian marine and another municipal council member on Friday near the town of Florencia in southeastern Colombia, and a police major and a soldier on Sunday in Ibaque in the center of the country.
The five were kidnapped in separate incidents over a two year period between 2007 and 2009.
Brazil provided two helicopters and crews for the mission, and the Colombian military cooperated by suspending operations in a huge swath of southern Colombia from 2300 GMT Tuesday to 1100 GMT Thursday.
FARC, which has been at war with the Colombian government since 1964, has between 7,000 and 11,000 fighters and is holding at least 19 soldiers and police officers hostage.
Follow Emirates 24|7 on Google News.