Fears for Pakistan as blasts kill 115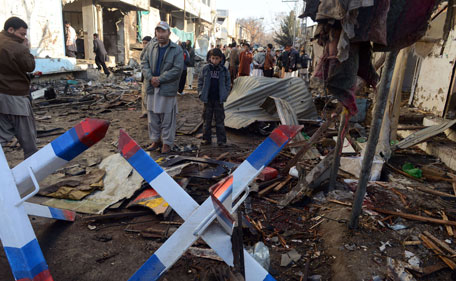 A string of bombings in Pakistan including a twin suicide attack on a snooker hall used by Shiite Muslims has left 115 people dead, in one of the nation's deadliest days in years.
At least 82 people were killed and 121 wounded Thursday when two suicide bombers blew themselves up at the crowded snooker club in an area of the southwestern city of Quetta dominated by the Shiite community, a police officer said.
Extremist militant group Lashkar-e-Jhangvi claimed responsibility for what was the worst single attack ever on the minority community, which accounts for around 20 percent of Pakistan's 180 million-strong population.
It was also the deadliest attack in Pakistan since twin suicide bombers killed 98 people outside a police training centre in the northwestern town of Shabqadar on May 13, 2011 -- shortly after US troops killed Osama bin Laden.
Earlier Thursday, a bomb detonated under a security forces' vehicle in a crowded part of Quetta, killing 11 people and wounding dozens more.
And in a third incident, a bomb exploded at a religious gathering in the northwestern Swat valley, killing 22 people and wounding more than 80, in the deadliest incident in the district since the army in 2009 fought off a two-year Taliban insurgency.
At the snooker club the first suicide bomber struck inside the building, then 10 minutes later an attacker in a car outside blew himself up as police, media workers and rescue teams rushed to the site, said officer Mir Zubair Mehmood.
Akbar Hussain Durrani, the home secretary in the provincial government of Baluchistan, told AFP that the death toll had risen to 82 with more than 120 wounded.
Nine police personnel, three local journalists and several rescue workers were among those killed, officials said.
The snooker club was frequented mostly by Shiites, police said.
Lashkar-e-Jhangvi claimed responsibility in telephone calls to local journalists. The group has links to Al-Qaeda and the Taliban, and was among several involved in the kidnap and beheading of reporter Daniel Pearl in January 2002.
The US-based Human Rights Watch called the government's failure to protect the Shiite community, which accounts for some 20 percent of the population, "reprehensible and amounts to complicity in the barbaric slaughter of Pakistani citizens". It said 2012 was the deadliest year on record for Shiites in Pakistan.
The bombings damaged several shops and nearby buildings. At least four local ambulance service vehicles were destroyed and people were seen wailing beside bodies lying on the ground, an AFP photographer said.
Quetta has long been a flashpoint for attacks against Shiites, in particular those from the ethnic Hazara minority, as well as suffering from attacks linked to a separatist insurgency and Islamist militancy.
The blast in the northwestern Swat valley took place at a weekly meeting of the local Tableeghi Jamaat (preachers' party) at its centre on the outskirts of Mingora, the main town in the district, regional police chief Akhtar Hayat said.
"The explosion occurred due to a bomb. Around five kilograms (11 pounds) of explosives were used in the blast," Shafqat Malik, a senior bomb disposal official, told AFP.
Initial reports had said the blast was caused by a gas cylinder exploding.
In the earlier attack in Quetta, bombers targeted Frontier Corps personnel, planting a device underneath one of their vehicles, a senior police investigator said.
"At least one FC personnel was killed and 10 others wounded, two of them seriously," FC spokesman Murtaza Baig told AFP.
"I went out of my shop and saw a thick cloud of dust. I was very scared and saw people screaming in panic. There were dead bodies and injured people shouting for help," said Allah Dad, a local shopkeeper.
The worst single attack in Pakistan killed 139 people in Karachi on October 19, 2007, at the homecoming of former prime minister Benazir Bhutto.
On October 28, a car bomb destroyed a clothing market in the northwestern city of Peshawar, killing 134 people.

Follow Emirates 24|7 on Google News.