Fighting outside Indian court hearing student sedition case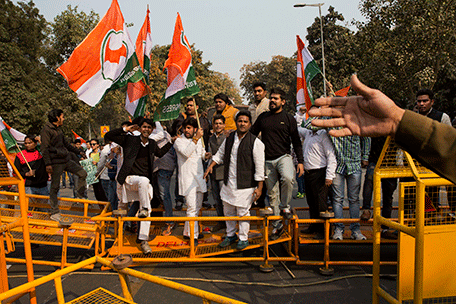 Fighting broke out on Wednesday around an Indian court hearing a case against a student union leader accused of sedition, a charge that has sparked protests across university campuses and criticism the government was curtailing free speech.
Kanhaiya Kumar, head of the student union at Delhi's Jawaharlal Nehru University (JNU), was rushed from a car through a gate into the court by police officers protecting him with a riot shield.
He was later remanded in custody by the court until March 2.
Lawyers chanting nationalist slogans earlier barged into the compound and threw stones at reporters outside, in defiance of an earlier Supreme Court order banning protests after there was a punch-up at a hearing on Monday.
Wednesday's remand hearing was temporarily adjourned as the Supreme Court rushed a team of commissioners to investigate reports that Kumar had been beaten up inside the Patiala courthouse in New Delhi.
Kumar, 28, was arrested at a student rally last week held to commemorate the anniversary of the execution of a Kashmiri separatist over his role in an attack on the Indian parliament in 2001. His supporters deny he made any incendiary remarks.
Follow Emirates 24|7 on Google News.