Filipino's last dream... Dh40,000 short of reality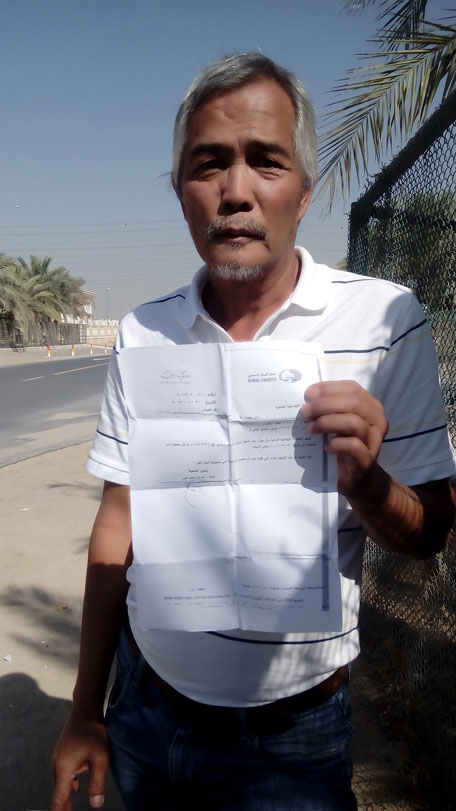 Bernardo Basco Ocampo from the Philippines who lives in Dubai is 60-years-old.
Now, he has only one dream – to go home to the Philippines to see his 80-year-old mother, Virginia Basco Ocampo.
Bernardo, unfortunately is an undocumented Philippine migrant and has not left the UAE for the last 20 years.
Bernardo also says he owes Dh40,000 to creditors.
He says a court in Dubai has asked him to pay the amount before leaving the country.
"My first wish and last wish is to go home to Pampanga, the culinary capital of the Philippines. I have not gone home for nearly two decades now," he says.
Bernardo came to Dubai to work as a bus driver.
Nowadays, he uses his culinary tradition of Pampanga to make food for his friends.
"My last legal status here was as a driving instructor. My employer promised me a salary of Dh10,000 per month, but the income was not regular.
"I used to collect money from the students, but there was a delay in paying the owner. He called the police and filed a case against me. I have been absconding from his company and since then I worked odd jobs to make a living, keeping aside my dream of going back home.
"I have spent some time in jail and then came out of jail with a court order asking me to pay Dh 40,000, which I could not do so."
When Bernardo left the Philippines in 1996, his children were quite young, and now they have grown up and got married, except the youngest daughter, who is 24.
"Now I have seven grandchildren, who are all born after my departure from the Philippines."
"I carry a copy of this court order asking to pay Dh40,000 and whenever I am caught on random checks, I show them this.
"I tried to use the public amnesty in 2012, but since I had a court case, I was not eligible to go without paying the fine," he says.
He has approached the Philippine Consulate for help as well.
"It is my mother who wants to meet me the most. If I can go home she will be very happy," he says.
Follow Emirates 24|7 on Google News.