Fire halts train traffic at Paris's Montparnasse station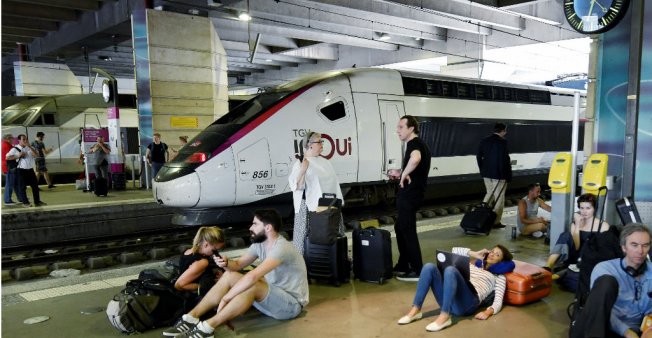 A major fire in the Paris suburbs paralysed traffic in and out of the city's Montparnasse train station Friday, just as thousands of French travellers head off on their holidays this weekend.
For updates on train times from the Gare Montparnasse website, click here.
The fire at an electrical centre run by the national transport network in Issy-les-Moulineaux, southwest of Paris, sent a massive plume of smoke rising into the skies.
The blaze, next door to Microsoft's main French offices, prompted an evacuation of 2,500 people and caused a power cut to some 16,000 homes in the Paris suburbs, authorities said.
It also affected around 100,000 travellers, rail operator SNCF said.
The fire shut down traffic just before noon at Montparnasse, the main station connecting Paris to west and southwest France.
Some trains started running again in the afternoon, but rail operator SNCF warned disruptions would continue into the weekend.
"Our objective is to keep 60 percent to 70 percent of trains in circulation" on Saturday, Alain Krakovitch, a senior SNCF official told reporters.
"Those who can delay their journeys need to delay them," he said earlier.
The station in southern Paris, which in the midst of a heatwave is sweltering in temperatures of 36 degree Celsius (95 Fahrenheit), was crowded with stranded passengers staring up at the departure boards.
"It's infuriating, it's not clear at all what's happening," said Eva Basin, a 42-year-old Parisian who was supposed to be heading off on vacation to Brittany.
"They've advised me to delay my ticket, but I only have a week of holidays," she said. "All the trains for tomorrow are full. I'm going to try to take a bus."
Some trains were back up and running by Friday afternoon, albeit with a three-hour delay, while others were re-routed.
SNCF official Patrick Jeantet said a transformer had caught fire at the electrical centre, which controls Montparnasse's safety installations. The cause of the fire was as yet unknown.
The shutdown came just as the French capital empties out for August, when Parisians traditionally head to the beach or countryside for much of the month.
Montparnasse station was the scene of similar transport chaos almost exactly a year ago, when a giant signalling failure caused three days of heavy disruption.
Travellers crossing between France and Britain were also suffering disruption Friday, as the heatwave prompted delays in the Channel Tunnel.

Follow Emirates 24|7 on Google News.