Flash floods kill 6 in southern Russia; 1 missing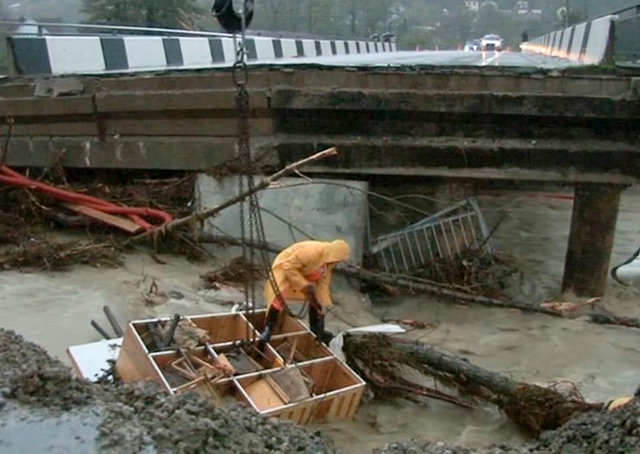 At least six people died as flash floods hit Russia's south, paralyzing traffic across the region and affecting thousands of people, investigators said on Friday.
The region, which hosted many events of the 2014 Sochi Winter Olympics, saw rainfall that amounted to the average seen over two months on Wednesday, causing rivers to overflow.
The Investigative Committee said in a statement on Friday that six people died when torrential rains and flash floods hit. An elderly woman went missing after she was taken by the gusts of water in the town of Tuapse, the investigators said.
Footage on state television showed people being evacuated from villages in inflatable boats, and response teams repairing a section of a collapsed bridge.
The floods have damaged roads and railroad bridges, paralyzing traffic. More than 20 trains running along the Black Sea coast have been delayed after a section of a railroad bridge collapsed, leaving hundreds of passengers stranded at nearby stations. Emergency officials offered temporary accommodation and food to the passengers.
Russian Railways said on Friday that they have repaired one of the tracks, allowing a train to travel between two major Black Sea coast towns for the first time since Wednesday.
Follow Emirates 24|7 on Google News.