Flights on time after fog clears way for landing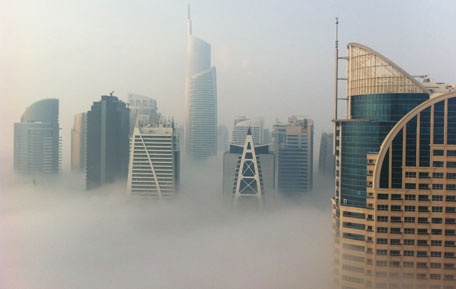 Flights have begun to land normally and on time at all major airports across the country following delays in the morning due to heavy fog.
Almost all delayed flights have landed in Sharjah; Dubai is not reporting any more backlogs.
According to a Dubai Civil Aviation official there were two cancellations, 1 diversion out of Dubai and ten flights were delayed early morning today.
Earlier today, Sharjah airport suffered major disruptions with almost all flights scheduled to land this morning delayed by several hours.
An Air Arabia flight from Chittagong scheduled to land at 3:15 was diverted to Ras al Khaima airport. The flight is now returning to Sharjah and is expected to land at 10:20am.
Ten other Air Arabia flights from several Indian cities such as Bangalore, Delhi, Kochi, Hyderabad, Chennai, Mumbai and Kozhikode and flights from Alexandria and Istanbul were delayed between three to four hours. "All flights are landing now," said an official at the Sharjah International airport.
According to a Dubai Civil Aviation official three flights were diverted due to severe fog.
While one flight each was diverted to land in Dubai International Airport (DXB) and Dubai World Central (DWC), another flight that was scheduled to land in DXB was diverted to a neighboring airport. No details of the diverted flights were given.

Earlier story
Even as foggy conditions results in pockets of traffic along major highways in the emirate, Dubai Airport's website has also posted several flight delays in its morning departures.
Emirates has posted approximate hour-long delays of two of its flights, with Singapore and Iraq's capital, Baghdad, amongst the ones affected.
Meanwhile, budget-carrier flydubai has reported cancelled its morning flights to Kuwait and Bahrain, while Riyadh, Jeddah and Urkaine's capital Kiev are all noting delays on minimum one hour.
Flydubai has also cancelled its flight arriving into Dubai from Bahrain.
Abu Dhabi Airport has also posted delays in its morning departures, with Etihad Airways' flights to London Heathrow and Seychelles been pushed to 10am from its 8.20am takeoff.
Etihad's flights to Brussels, Munich, Bangkok and Frankfurt are also showing delays, while the Abu Dhabi carrier's flight to Beirut remains cancelled.
Passengers are advised to check on schedules before departing from home.
ALSO READ:

Fog drifts back in across UAE: Morning traffic hit with visibility down to almost zero
Follow Emirates 24|7 on Google News.