Flooding overwhelms Australian towns after cyclone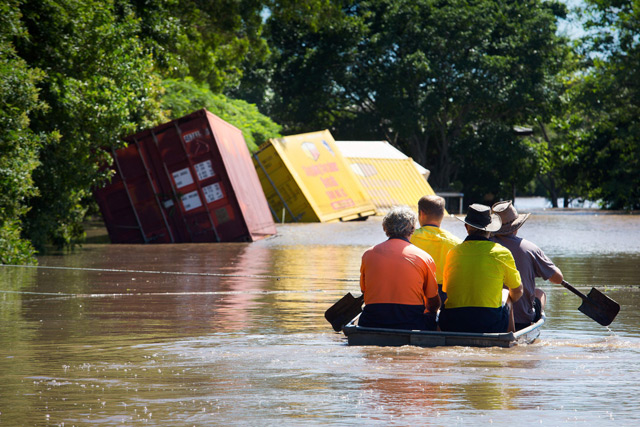 Tens of thousands of people have been evacuated from towns in two Australian states as authorities warned Friday there could be deaths from severe flooding caused by a powerful tropical cyclone.
Category four Cyclone Debbie hit northeastern Australia on Tuesday between Bowen and Airlie Beach in Queensland state, ripping up trees, washing boats onto land and causing widespread damage.
Debbie was downgraded to a tropical low as it tracked southeast, but continued to pack damaging gusts and dump huge amounts of rain all the way down the eastern coast to New South Wales state, south of Queensland, and Sydney.
Lismore near the NSW coast was hard hit, with the State Emergency Service (SES) warning of three-metre (9.8-feet) high flood levels in the town.
"As we start to go out and try to find people that made... calls overnight, there could be some very distressing news," SES acting Deputy Commissioner Mark Morrow told the Australian Broadcasting Corporation.
"There could be people overnight that perished in that flood, we don't know at this stage."
Other towns subject to evacuation orders include Tweed Heads, Kingscliff and Murwillumbah.
Farmer Peter Hannigan, whose property is just north of Lismore, said the deluge was the worst he had ever seen in more than 50 years in the area.
"I think a lot of people are going to have a lot of significant damage on the farms," he told the ABC.
"It is the worst I have ever seen I have to admit."
Recovery efforts
Further north in Queensland, the popular tourist city of Gold Coast and other nearby regions were also inundated by water. Upper Springbrook in the Gold Coast hinterland recorded 789mm of water during Thursday, the Bureau of Meteorology said.
The weather bureau's regional director Bruce Gunn said across southeast Queensland where the Gold Coast is located, there had been widespread rain of between 100-300mm falls over the last two days.
"In terms of what happened in the last 24 or 48 hours, we have seen some pretty big rainfall totals," he told Brisbane's Courier Mail.
"There is still that strong risk around the Gold Coast."
Focus has turned to the restoration of essential services such as water and electricity in the areas hit by Debbie, including Bowen, Mackay and the Whitsundays where some 50,000 people were still without power, officials said.
The military has mobilised 1,300 soldiers to help assess the full extent of damage and aid the clean-up, with helicopters and planes deploying to restore infrastructure and supply emergency food, water and fuel.
Queensland Premier Annastacia Palaszczuk said some 2,000 properties had been assessed, with about 270 severely damaged.
"The army is doing everything it can to get water into those parts of North Queensland that I mentioned -- Airlie, Proserpine, Bowen and the Whitsunday islands," she told reporters.
"We also have structural engineers that are on the ground at the moment."
Follow Emirates 24|7 on Google News.