Fog, clouds, condensation... but Burj Khalifa is not on fire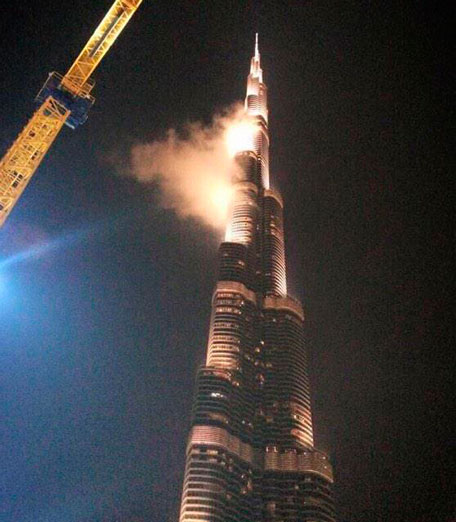 Rumour of Burj Khalifa on fire caused quite a flutter on Twitter on Sunday evening (Feb 1).

Hundreds of users took to social-networking site to spread the rumour, with many posting pictures of what appeared to be a unique formation of cloud.

Civil Defence confirmed to Emirates 24|7 that there is no fire on the world's tallest tower.
(Twitter: @BurjKhalifa)
The source explained the phenomenon in details saying, "When temperature of the humidity outside the building reaches a certain level in comparison to the temperature inside the tower cloud formation takes place in that area, as in case of Burj Khalifa. It's basically condensation.
"It usually occurs during this time of the year, it is harmless but unique at the same time," he continued.
"Cloud formation due to condensation was responsible for all the rumour, there's nothing to worry about," he concluded.
(Twitter: @BurjKhalifa)
The official Twitter handle of Burj Khalifa (@BurjKhalifa) reconfirmed saying: "It's that time of year the clouds gather around #burjkhalifa & trick us. It's just fog, our beloved #Burjkhalifa is safe & shining!"
A source in Emaar has reteirated the same and said that it's definitely not fire and everybody inside the building and outside are safe.
No alarms had gone off, and no evacuation procedure had been initiated in the building.
Dubai Police were quick to respond to quell the rumours, saying it was just an unusual cloud formation coupled with a setting sun that gave the illusion of the tower on fire.
"@DubaiPoliceHQ stated that no fire has been reported in Burj Khalifa and it looks like a mist only," tweeted Emirates 24|7's parent firm Dubai Media Inc. from its twitter handle @dubaimediainc.
The same tweet was also posted by @AtTheTop_tweets, the official handle of Burj Khalifa's observation deck, At The Top.
An amazing Instagram video published by BurjKhalifa also showed heavy fog moving around the tower at high speed, giving the illusion of smoke.
Burj Khalifa fire facts
# Burj Khalifa from basement to level 160 is fully sprinkler-fed.

# There are multiple alarm sensors in the building. Emergency voice, alarm communication system notify both in Arabic and English.

# The tower has pressurised air-conditioned refuge areas, every 25 floors where residents can wait safely or rest on the way down.

# The refuge area is separate from the main structure and is a two-hour fire resistant.

# There is a highly fire resistant concrete walls surround all stairs.

# There is a 5,500kg capacity elevator for firefighters and building service work.

# There is a crisis command team that along with the facilities management team are trained to manage the response efforts of building during any crisis.
Not the first time
Strangely, this isn't the first time that image-backed rumours about a fire in Burj Khalifa, the world's tallest tower, have concerned residents and netizens.

In February 2012, about two years after the Burj Khalifa was unveiled and around the same time of the year as now, uber cool pictures of the sun coming through clouds (giving the impression that the tower was on fire) went viral, prompting Dubai Police to issue a statement to assuage nerves.

"There was no fire and no other accident at the Burj….heavy fog in the city gave the impression to many people that there was fire," Colonel Ali Ghanem, head of Bur Dubai police station, had then said.

Read: Tweeted rumour sparks Burj Khalifa fire scare
Follow Emirates 24|7 on Google News.