France faces second day of transport chaos as rail workers strike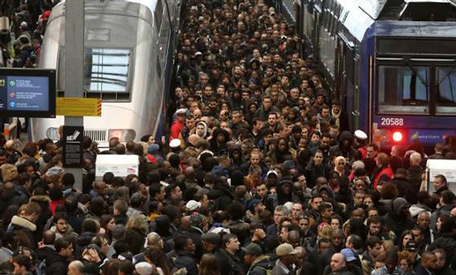 France faced a second day of transport chaos Wednesday as rail workers pursued rolling strikes, causing major disruptions for train travellers in the biggest challenge yet to President Emmanuel Macron's resolve to push through sweeping reforms.
Only one in seven high-speed TGV trains and one in five regional trains were expected to be running, state rail operator SNCF warned, after similar stoppages on the first day of the walkout that French media dubbed "Black Tuesday".
The strike is being led by SNCF staff but workers at Air France as well as garbage collectors and some energy workers also staged separate walkouts in a growing atmosphere of social strife 11 months after 40-year-old Macron came to power.
Macron's government says the heavily-indebted SNCF needs deep reforms as EU countries prepare to open passenger rail to competition by 2020, arguing it is 30 percent more expensive to run a train in France than elsewhere.
Unions fear the changes are a first step towards privatising the national rail operator - a claim the government denies - and object to plans to strip new hires of a special rail workers' status guaranteeing jobs for life and early retirement.
More than three-quarters of train drivers joined the first day of the walkout.
With stoppages planned for two days out of five until June 28, weeks of disruption lie ahead for France's 4.5 million daily train passengers.
Prime Minister Edouard Philippe admitted Tuesday that people using the SNCF rail network have "difficult days ahead of them".
Biggest challenge
The rail strikes are being seen as the biggest challenge yet to Macron's sweeping plans to shake up France and make it more competitive, earning comparisons with Margaret Thatcher's showdown with British coal unions in 1984.
"We have been asking for the same thing for several weeks - that the government completely reconsider its plan. They need to start again from scratch," Philippe Martinez, head of the CGT trade union, told France Inter radio.
The strike was accompanied by demonstrations supporting the rail workers by some 2,700 people in Paris, according to police, with a group of around 100 becoming violent and five people arrested.
Protests also took place in other cities around France representing the biggest wave of industrial unrest since Macron came to power last May.
The railways are a bastion of trade unionism in France and have forced governments into U-turns in the past during major stoppages.
"For Macron, the test is really starting today," labour market economist Andrea Garnero from the Paris-based Organisation for Economic Cooperation and Development (OECD) told AFP.
"Unions are still able to gather support when they go on strike in France, although maybe less so than in the past," he added.
Commuter frustration
Unions have so far failed to block Macron's reforms, including controversial changes to the labour code, despite several mass protests drawing tens of thousands of people to the streets.
Philippe said the government would push ahead with its planned overhaul for SNCF, which he said required 14 billion euros ($17.2 billion) of public money each year.
"I must say that I hear the strikers, who speak fervently at times, as much as I hear those who do not accept this strike," the prime minister told lawmakers in parliament.
Public support for the rail strike stands at just below half, according to an Ifop poll released Sunday, and commuters expressed a mixture of sympathy and frustration with the reduced service.
"I start work at 1:00 pm. Do you know what time I had to get up? 5:00 am," complained Jean Nahavua, a manager at a wholesale company who lives in Lille and commutes to Paris.
Pascal Lasnier, a banker waiting at the same station, added: "I understand that they want to defend their piece of the pie, but maybe there are other ways of doing it."
At the capital's busy Gare du Lyon station, the platforms were so crammed that a woman fell onto the tracks and had to be helped out by fellow passengers.
But major regional stations including Nice, Lille and Marseille were virtually deserted as travellers anticipated cancellations.
Three-quarters of Eurostar trains to London and Brussels were running on Tuesday and a similar service was expected on Wednesday. Most Thalys trains towards Belgium and the Netherlands were also still scheduled to depart.
Follow Emirates 24|7 on Google News.