France set for more 'yellow vest' protests despite Macron concessions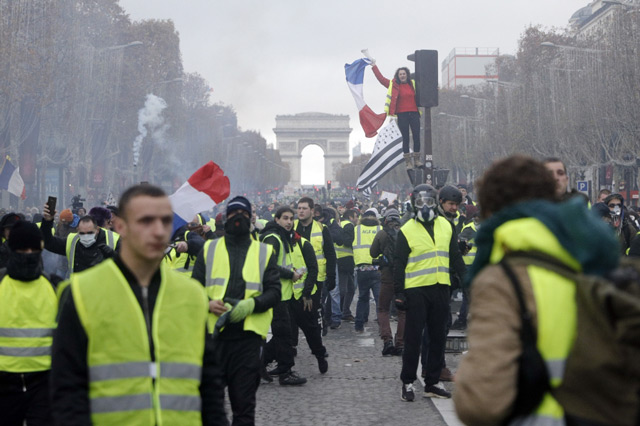 Thousands of France's "yellow vest" demonstrators were expected to take to the streets again on Saturday, a month after the start of their protest movement which has plunged President Emmanuel Macron's government into its biggest crisis.
The number of protesters who turn out could determine the fate of the movement, five days after Macron announced a series of tax and wage concessions in a bid to end the unrest.
The last three Saturdays have been marked by violent demonstrations, with barricades being set on fire on the Champs-Elysees.
Until now, however, the nation-wide grassroots movement has been backed by a majority of French people, but two polls published on Tuesday - in the wake of Macron's concessions - found the country was now split broadly 50-50 on whether protests should continue.
Demonstrations started on November 17 in opposition to hikes in fuel taxes, but have since snowballed into a broader opposition to Macron's pro-business agenda and style of government.
Images of road blocks, massive traffic jams and mobs rioting on the streets of Paris have dented France's image, as well as Macron's hopes of forcing through more business-friendly reforms.
Many of the movement's figureheads, along with leaders of the far-left Unbowed France party, have urged protesters to turn out, particularly in Paris, to pressure the government into making further concessions.
Follow Emirates 24|7 on Google News.