Free WiFi at this Dubai bus-stop...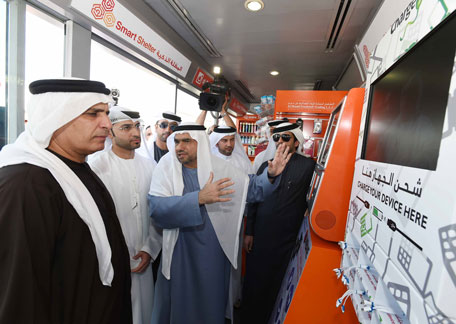 Mattar Al Tayer, Director-General and Chairman of the Board of Executive Directors of Roads and Transport Authority (RTA), has inaugurated the first smart air-conditioned shelter for bus riders in Jumeirah. The shelter, which is fitted with complimentary WiFi internet connectivity, offers several other services to the public.
It is the first of 100 smart shelters to be constructed by the RTA in 15 districts of Dubai.
"The smart shelter hosts a wide spectrum of services for bus riders including Free WiFi courtesy of du, selling and top-up of NOL cards, top-up of mobile phones for local and international networks, paying bills of public and private entities internally and abroad, recharging mobile phones, smart kiosk, interactive media and advertising screens, displaying info about RTA's services and a mini mart for selling refreshments and snacks," said Al Tayer.
A host of RTA's CEOs, Fahad Al Hasawi Chief Commercial Officer, Emirates Integrated Telecommunications Company (du), and Nikhil Jagmohan, Executive Director of Right Angle Company, attended the event.
"The smart air-conditioned shelters project, undertaken by RTA in cooperation with Right Angle Co and du is part of RTA's initiatives in support of the Dubai Government's efforts towards implementing the directives of His Highness Sheikh Mohammed bin Rashid Al Maktoum, Vice-President and Prime Minister of the UAE and Ruler of Dubai. These directives are to transform Dubai into the smartest city in the world, offering 24-hour services to the public. The project fulfills one of the key strategic goals of RTA like making people happier, and promoting the use of mass transit modes in Dubai. This drive could be maintained through improving public transport facilities and transforming them into smart facilities capable of maximizing the satisfaction of public transport riders. It also warrants continuous efforts towards upgrading the infrastructure of public transport facilities in an innovative manner likewise the metro stations," said Al Tayer.
"RTA has set a time chart for constructing 100 smart air-conditioned bus shelters. About 25 shelters are set for completion by end-February, and the remaining 75 shelters are due for completion by end- March this year. Locations of shelters were selected based on several safety considerations and the number of riders. These shelters would be distributed over 15 districts in Dubai including the Sheikh Zayed Road, Al Wasl, Jumeirah, Deira, Umm Al Romool, Al Quoz, Al Rashidiya, Al Qusais, Al Awir, Al Nahda, Al Satwa, Al Karama, Al Ras, Al Garhoud, and Al Jafiliya," he explained.
Follow Emirates 24|7 on Google News.