Fresh clashes in Syria's Homs, as Russians flee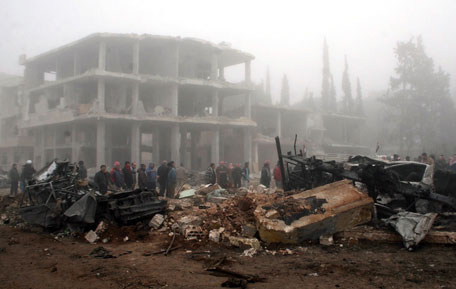 A fresh outbreak of fierce fighting has gripped the strategic Syrian city of Homs, a watchdog said Tuesday, as Russia warned of a protracted civil war and helped its citizens flee the violence.
A day after Arab League chief Nabil al-Arabi said a UN-backed peace mission has yet to yield even a "glimmer of hope," the 22-month conflict pitting rebels against forces loyal to President Bashar al-Assad showed no signs of abating.
The head of a UN team back from a visit to Syria, meanwhile, said in Beirut there was "no humanitarian solution" to the conflict, slamming the "political failure" to end it and urging the international community to push for a truce.
At least 23 troops and pro-regime fighters were killed and dozens wounded in Homs, dubbed "the capital of the revolution" by the opposition, said the Syrian Observatory for Human Rights.
"We have reports from the military hospital in Homs of up to 130 soldiers and pro-regime fighters killed or wounded in the past three days," the Britain-based watchdog said, adding it had so far confirmed 23 of them had died.
The troops were killed in heavy clashes in western Homs, which Abdel Rahman said was crucial as it lies on a "strategic fault line" both for the rebels and the pro-Assad forces.
The area links Damascus to the sea and has access both to the capital and to "arms coming into Syria from the Mediterranean," Observatory direction Rami Abdel Rahman said.
Activists on the ground said the city and province of the same name have returned to the forefront of a conflict that the United Nations estimates has already cost more than 60,000 lives.
"Nowhere in Syria has the violence of the regime's onslaught against rebels been so intense as in Homs city," anti-regime activist Omar Shakir told AFP by telephone.
Bowled over by an increasingly daring rebellion, Assad's regime is reducing its territorial ambitions to focus on Damascus, central Syria and Alawite bastions, as it digs in for a long war, analysts say.
Homs lies on a key battlefront between the army and rebels, who have seized large swathes of northern and eastern Syria, according to activists.
Meanwhile, key Assad backer Moscow said the conflict may become a drawn-out battle with no clear outcome.
"You know at first the forecasts were two to three months, four, and it is already two years," said Russia's Deputy Foreign Minister Mikhail Bodganov.
"So the situation can develop in different ways. I think it could become protracted in nature."
Russia has come under repeated pressure from the West to call on Assad to quit but has insisted it is up to Syrians to decide their own fate.
On Tuesday, the Russian authorities helped up to 150 of their citizens escape Syria via neighbouring Lebanon, a diplomat said, insisting the airlift was not the start of an operation to evacuate Russians from the war-torn country.
"There are thousands of Russian citizens in Syria. The issue is that the Russian airline is no longer flying to Damascus, so we are helping some 100, maximum 150 people to leave Syria via Beirut, which is very close," the diplomat said on the condition of anonymity.
As well as claiming tens of thousands of lives, the conflict has forced some 600,000 people to flee Syria, mainly to neighbouring countries, according to the UN.
'Syrians destroying their own country'
The UN's John Ging, who headed a team of representatives on a four-day mission to Syria, said on their return: "This is a political problem. There is no humanitarian solution to the conflict ...
"The humanitarian organisations must do what we can to help people survive this. But our first appeal is to the political leadership of this world," the head of operations for the UN Office for the Coordination of Humanitarian Affairs (OCHA) said.
"It stands out for us that Syrians are destroying their own country," Ging added.
"If you doubt the scale of the travesty then you should come and visit and see for yourselves. Answer to the mothers and fathers and children there who see no hope on the horizon."
Meanwhile, warplanes and tanks pounded rebel strongholds in Damascus province, as a pro-regime daily reported clashes in a camp housing Palestinian refugees.
Tuesday's violence across the country killed at least 76 people, including 40 civilians, according to a preliminary toll from the Observatory.
Follow Emirates 24|7 on Google News.