Furore over Subway's '11-inch long' footlong sandwiches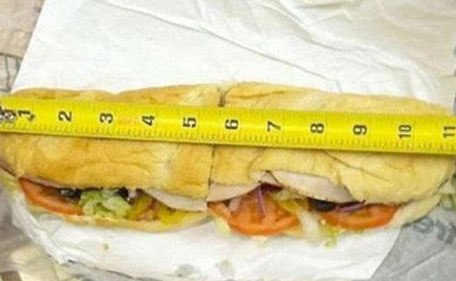 A man from Australia, who posted an image of a Subway footlong sandwich on the firm's website has caused an international uproar after it emerged clearly from the visual evidence that the famous sandwich company footlong sandwiches are only 11 inches in length.
Some would probably say, so what's in an inch. Many would claim, missing cheese, vegetables, tomato, cheese and meat, claims Daily Mail.
The daily says that the image has received more than 100,000 'likes' so far along with comments. All that the image caption said was: "Subway pls respond."
Subway is one of the world's largest fast-food chains.
According to The New York Post's investigation, four out of seven footlong sandwiches that it measured were short of the 12-inch that should ideally make a foot.
A company spokesperson tried to minimise the damage to the brand by saying that the length of the firm's famous sandwiches may vary slightly when its bread, which is baked at each Subway location, is not made to the chain's exact specifications.
"We are reinforcing our policies and procedures in an effort to ensure our offerings are always consistent no matter which Subway restaurant you visit," said the official e-mailed statement.
"The Subway photo — and the backlash — illustrates a challenge companies face with the growth of social media sites like Facebook, YouTube and Twitter," said Daily Mail.

Follow Emirates 24|7 on Google News.