GHO lauds Mohammed's initiatives to spread happiness globally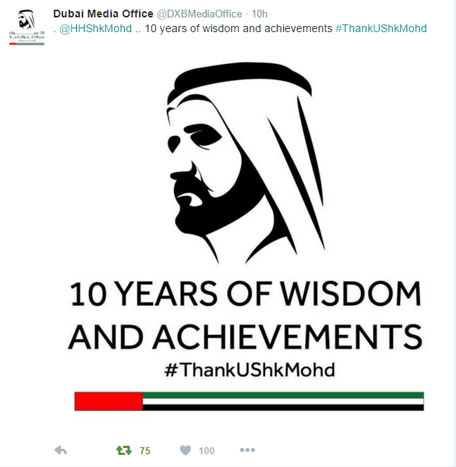 His Highness Sheikh Mohammed bin Rashid Al Maktoum, Vice-President and Prime Minister of the UAE, ascended to the throne as Ruler of Dubai 10 years ago on January 4.
'His Highness rules with wisdom and vision to bring happiness to people'

Global Happiness Organisation (GHO), a non-profit organisation that deploys scientific approaches to enhance happiness across the world, has applauded His Highness Sheikh Mohammed bin Rashid Al Maktoum, Vice-President and Prime Minister of the UAE and Ruler of Dubai, for his active and leading role in spreading happiness globally.

In a congratulatory message on His Highness' 10th accession day, GHO said that over the last 10 years Sheikh Mohammed has ruled with wisdom and vision to bring happiness to people by launching many initiatives, which are viewed as references for international best practices to employ innovations to make people happier.

''Thank you, Your Highness, for your sustained initiatives that realised happiness for us and will do the same for future generations. Your initiatives have inspired us, charted the features of our ambitions and made us feel proud of the UAE in general and Dubai in particular as a global destination for happiness,'' said Saeed Al Nazari, President of GHO UAE.

''We, in the GHO, are proud to learn practices from your Highness' inspirational lifetime achievements and innovative initiatives in spreading knowledge about happiness globally,'' he added, noting that Sheikh Mohammed has become a reference in happiness.
Golden Rule
Columnist Mahmoud Alam believes that His Highness Sheikh Mohammed bin Rashid Al Maktoum brings the golden rule of principles to his government.
He says that many of our Arab countries are in need of leaders like His Highness Sheikh Mohammed.
#شكرا_محمد_بن_راشد موظفي البيئة والمياه يعبرون عن شكرهم للقيادة الرشيدة pic.twitter.com/683lEmnz6n

— وزارة البيئة والمياه (@MoEWUAE) January 4, 2016
Seven Emirates - one destination

Basim Abdel Aziz Al Bassiouni, Marketing Officer at Al Ali Real Estate Investments confirmed that the march of the Government of His Highness Sheikh Mohammed has built for the UAE a reputation globally.
He added the UAE has become a tourist destination - seven Emirates, one destination.

Making people happy

Mahmoud Jabir one of the residents and who is working with Dubai TV said that His Highness Sheikh Mohammed bin Rashid Al Maktoum has established several principles in government work – the foremost being transparency.
He added that His Highness thinks of the happiness of people – where there is no poverty.

Security and safety

Shehabudin Saleem, of Dubai Islamic Bank, points to the outstanding achievements in the UAE.
He praises His Highness Sheikh Mohammed's keenness in communicating with people via latest technology.
Ali Abdu , a Client Relations Specialist, says that the achievements of His Highness is a cause for pride of all Arabs.

The country has flourished in all sectors under the wise and strong leadership of His Highness Sheikh Mohammed bin Rashid Al Maktoum. We love Sheikh Mohammed because from him, we've learnt to lead. He taught us to be No. 1 in all aspects. This has reflected positively on us, not only at work, but also in our daily life. May Allah bless him. - Khawla Al Attar
The rapid development that we all witnessed in the past decade is the real and true proof of the great leadership of His Highness Sheikh Mohammed. He is an exceptional leader who made the whole world witness his achievements. He succeeded in making the UAE lead in all sectors. - Buthina Al Attar
Today we are competing with the world's top countries, thanks to Sheikh Mohammed. The quality of services provided here is unique and of high standard. The types of projects and development we have achieved in these years is massive. We were able to do things that others are still struggling to follow. All this has been achieved because of Sheikh Mohammed's forward planning and vision. We love him for all what he did, and we are confident that our country will further prosper under his leadership. - Humaid Ahmed
Sheikh Mohammed has changed the way people think and perform their work in the public sector. Being an employee in a government sector, we are challenged all the time as public have high expectations from us. They expect to get high and top quality services, and we are competing with ourselves on daily basis. We are eager to achieve more year after year and raise our limits. Thanks to our great leader Sheikh Mohammed bin Rashid Al Maktoum. - Noora Abdel Rahman

"I want to thank him for what he provided us from schools and hospitals, and I want him to know that I always look up to him."
"I love him, and I want to tell him thank you for everything he has done for us."
During the 23 years in Dubai, I have been blessed with various opportunities and achievements resulting towards an effective lifestyle made possible by none other than our great leader His Highness Sheikh Mohammed. Locals and expats alike admire him. Dubai is a city which boasts different cultures, religions and nationalities. We are privileged to be in a city, where the leader himself gets enthusiastically involved in the progress of developments until the tasks are achieved. Such initiatives make the public believe in him and ensures Dubai and the UAE continue to be an iconic hub in the world. We wish him all the very best for 2016 and many more successful developments to follow. - Aaron Vedhasinghe
I've been living here for the last seven years. I've lived in other countries as well. But, what distinguishes Dubai from the others is that the policy towards expats is truly unique and beneficial. Sheikh Mohammed is hugely responsible for giving us a home away from home. - Markos Abraham

Sheikh Mohammed knows the mind of his people and treats everyone with equality. The very fact Dubai has attracted so many people from so many different nationalities living in perfect harmony proves that point. - Siddique P
"Having been in Dubai since the year 2000, I witnessed a lot of development and transformation. Initially, we wanted to stay for a maximum of three years, but the spirit of Dubai and the UAE was so exciting, that we made Dubai our home since then. Dubai provided the right infrastructure for our family - for our son, who attended a high-class school and for us as his parents, who have been working in exciting companies and exciting professional roles in a truly exciting part of the world. We witnessed the rapid development in infrastructure - just think about all those iconic real estate developments which were not there when we moved here in the year 2000, or the road infrastructure, the education and health infrastructure, the blossoming of the free zones, and much more. Dubai has been amazing in terms of security and connectivity, underlined by the amazing growth of UAE's airlines, our airports and our public transportation system - we are proud to have witnessed so many 'regional firsts'!" - Thomas Edelmann, Founder and Managing Director of RoadSafetyUAE

What Dubai has achieved in such a short span of time has taken some other societies multiple times to build. This is what makes Sheikh Mohammed a truly inspirational leader. He leads by example and without fear. - Imtiaz Zafardeen

Sheikh Mohammed is the most visionary leader of modern times. Growing up in the UAE, I have literally seen the entire city transform in front of my eyes from a small town to a thriving city in just a few years. Under his leadership, both the nationals and expats have thrived and flourished. I am a resident of Dubai for the last 40 years and am proud to be associated with Dubai and the UAE. - Jigna Thaker

I have seen Dubai grow by leaps and bounds under the great leadership and spectacular vision of Sheikh Mohammed. - Kunal Bilakhia

Dubai can be called a number of things - a visionary city, a futuristic landscape… But for me, it is my home. I am grateful to be a part of this vision in my own small way. If there is a person to thank, then it is His Highness. Who else but a man of true vision could create such a visionary city. - Ahmed Rashid

Follow Emirates 24|7 on Google News.