Google Glass rival: Sony's SmartEyeglass for Dh2,807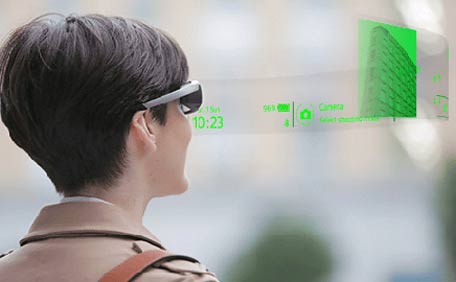 Sony has announced that the developer edition of its SmartEyeglass can be pre-ordered now and will be available for purchase starting March 10. It has priced the device at €670. (Dh2,807)


In its announcement, the Japanese firm said it is starting commercialisation of its SmartEyeglass Developer Edition SED-E1, which will be available for sale in 10 countries as of March 2015. Pre-order has already started in UK and Germany.

Unlike the Google Glass, the Sony device will work when paired with a smartphone and comes with a remote control that is currently wired.

SmartEyeglass communicates wirelessly with the smartphone over Bluetooth and wireless LAN.


The Android powered device will enable applications from the Google Play Store to run as normal Android apps.

Sony has published this video which describes how the new glass will function.



The developer edition device is equipped with a wide range of sensor technologies, including a CMOS image sensor, accelerometer, gyroscope, electronic compass, brightness sensor, and microphone.

At launch, a selection of SmartEyeglass apps will be available for download from Google Play (apps can be found from the SmartEyeglass host app on the smartphone). This includes SmartEyeglass apps that let users access Twitter, Facebook, Gmail, RSS, calendar and voice control.

In addition to the hardware, Sony will also begin providing the official release of the Software Development Kit (SDK) for the SmartEyeglass, an upgraded version of the Developer Preview SDK that it has made available since last September.

With the availability of SmartEyeglass and the SmartEyeglass SDK, Sony says it is encouraging app developers to continue to develop new exciting AR apps.

The company said that the device comes with a unique holographic waveguide technology, which enables super-thin 3.0 mm augmented reality (AR) lenses with high transparency of 85 per cent and excellent brightness, without any half mirrors that may obstruct the user's vision.

Further, the monochrome display ensures low energy consumption and high luminance (up to 1,000 cd/m2). This enables a binocular display, where text and information is clearly visible under a wide range of lighting conditions.


At CES 2015 in Las Vegas, APX Labs Inc. showcased a number of different instruction-based app concepts for deskless workers. One such concept is an app that would give instructions on what boxes need to be moved where in a warehouse.

Another concept includes an instructional app for a mechanic, where step-by-step instructions for how to assemble an engine is given to the mechanic as he or she works on the engine.
Follow Emirates 24|7 on Google News.