Government Summit 'live': From deserts of UAE to deserts of Mars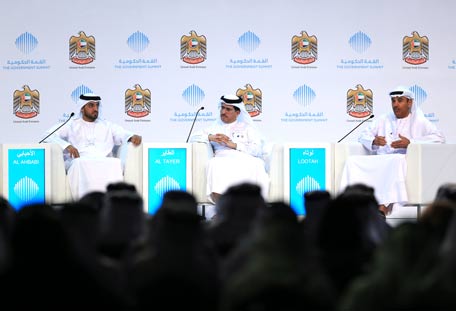 Update: Sheikh Mansour bin Zayed Al Nahyan, UAE Deputy PM and Minister of Presidential Affairs:
"How are we going to get from the deserts of the UAE to desert on Mars. God willing we will reach there in 2021."
"UAE is the first government to launch the post of chief innovation officer. We have signed with Cambridge to train them and we have 60 CIO ready to serve every government institution."
"UAE is investing in the happiness of its citizens, residents, expats. We are investing in infrastructure and innovation to make people happier."
Falah Mohamed Al Ahbabi, Director General of Abu Dhabi Urban Planning Council: "Abu Dhabi has adopted the grid system, which is generally adopted by the best cities in the world.
"The grid system eases transportation, improves living conditions and focuses on better land use. We are focusing on improving use of public transportation and we want to residents to adopt it."
Hussain Nasser Lootah, Director General Dubai Municipality: Dubai is working on ways to reduce the number of cars on the roads and it will come through new legislations that are being drafted.
"We want more people to use the public transport so we are working on building a new city Desert Rose which will be a quantum leap in building sustainable city."
"Collection of database is very important even though it is quite limited now. In the future, the database will define the smart services that we have to offer in our smart city."
Saeed Mohammed Al Tayer, MD and CEO of Dewa: Dubai is aiming to reduce energy consumption by 30 per cent by 2030. We are focusing on renewable energy.
Falah Mohamed Al Ahbabi, Director General of Abu Dhabi Urban Planning Council: "We have to review our streets and communities that we built 30 to 40 years ago. We may have to review everything, introduce new legislations to make our cities more livable and smart.
Today's first session is on the UAE Smart Cities Outook.
Falah Mohamed Al Ahbabi, Director General of Abu Dhabi Urban Planning Council, Saeed Mohammed Al Tayer, MD and CEO of Dewa Hussain Nasser Lootah and Director General Dubai Municipality.
UAE's Minister of Foreign Affairs Sheikh Abdullah bin Zayed Al Nahyan said, ''Though the UAE is small in size but it has a far-reaching impact on scientific progress. A desert in the past, the UAE is today a lush green land of bounties, high-rise buildings, renaissance and modernity.''

Speaking at the plenary session on the second day of the Government Summit entitled, ''#WeTheUAE,'' the foreign minister said many countries around the world had kept asking questions about the secret behind the resounding success and dynamic leadership the UAE displayed in a short span of time and how the UAE defied the negative impressions and stereotyped thoughts about countries in the region prevalent then.

''Many people across the world are looking for the recipe of success that the young state has achieved in just 43 years, something that should have taken a long time. How seven individual emirates united together under a common determination and transformed in a record time into an attractive destination for creative minds and talents from different countries of the world?"
Mohammed Abdullah Al Gergawi 'live': A UAE artificial intelligence (AI) and robotics award has been announced, with the winner to be awarded during the next Government Summit, according to UAE's Minister of State for Cabinet Affairs Mohammed Abdullah Al Gergawi.

There will be three categories for participants - education, healthcare and social service. For the international category, the prize is $1 million while for the local participants it is Dh1 million.
Earlier, UAE Minister of Foreign Affairs Sheikh Abdullah bin Zayed Al Nahyan said "We are no longer importing talent but we are now exporting talent. We are exporting talent and competencies in the field of aeronautics, real estate and port management.

"We are an oil producing nation but we are today focusing on renewable energy. Though there are many questions raised, the answer is very clear. We want to build the future like we build our present. We are proud to see Masdar, nuclear plant and solar park.
"Today we are building for us and for all those living on our land. Success of the UAE is success of every individual and we are proud of all our achievements.
"We are investing in the present we are investing for the future we want emariti youth to show good sense of leadership and be innovative.
"We are a small country but we have a huge impact on the world. Our people have worked to build the nation.
"We are working to provide every resident of Dubai with a personalised dashboard that will allow them to plan their day as they want.
"The dashboard will tell them when to go to the doctors for their check up and give them real time data on how much electricity they are consuming and not wait for their bills to come.
"We want to personalise the dashboard," says Bin Byat.
Bin Byat explained that the 'dashboard' would be an app.
UAE will be among top 5 nations in World's Happiest Index in next 10 years, says Du Chairman Ahmed bin Byat.
Dubai 2021 plan aims to get UAE in the Top 10 Happiest Nations in the World. Quest now grilling some senior UAE officials on how that is going to happen.
CNN's Richard Quest explains how Boston uses apps to get its pot-holes fixed. It's a micro-cosmic tech-view aimed at leading to his big push: Expo 2020.
Quest says: Government will have to bring various agencies under one roof here in the UAE to host Expo 2020.
Click to read: UAE government ahead of regional peers: OECD official
And we are off and running on day 2 with IBM's VP of Innovation Dr Bernard Meyers on giving a low-down on the IBM super computer 'Watson'.
What can Watson do? Forecast traffic patterns, track Ebola and help governments handle crises.
Day 2 opens with address of Mari Kiviniemi, Deputy Secretary General of OECD.
Dr. Mariana Mazzucato, Professor of Science and Technology at the University of Sussex in Britain, led a workshop titled 'The Entrepreneurial Government.' Dr. Mazzucato outlined that governments are vital to creating new markets and growth opportunities, and play an equal role with the private sector in spurring innovation.

"There is a persistent misconception that innovation begins only in the private sector. While the government does exist to ensure a fair and level playing field and to solve market failures in the public's best interest, it also serves a much more interesting role," said Dr. Mazzucato.

Based on analysis of emerging trends in population growth, by the year 2100 Dubai is set to become the centre of the world, a position held by London until now, said Dr. Hans Rosling, Co-Founder of Gapminder, at the Government Summit in Dubai today. Dr. Rosling was speaking on the topic, 'The Big Data Revolution: Transforming Raw Data into Future Insights,' on the starting day of the three-day Summit.
"By year 2100, America would have less than 10 per cent of the world's population while 80 per cent of the population would be in Africa and Asia. The surge in population growth in Africa and Asia would make Dubai the centre of the world by 2100," Dr. Rosling predicted.
The innovative approach to government and citizenship developed in the Baltic nation of Estonia was the subject of discussion during an informative talk by Taavi Kotka, Government CIO, Deputy Secretary General of ICT at the Ministry of Economic Affairs and Communications for Estonia, on the first day of The Government Summit.

Over the last 20 years, Estonia has been a pioneer in developing online and digital services, Mr Kotka, the European CIO of the Year 2014, informed a distinguished audience. Due to Estonia's relatively small population of 1.3 million, spread across a large geographical area, the implementation of e-government and commerical digital initiatives have been essential in ensuring that Estonia maximises efficiencies and remains competitive in the modern world.
In the next 10 years, you may not carry your mobile phone but the phone may be embedded in your body. The healthcare system may have all the information about your lifestyle, and you would have undergone a gene sequencing process based on which you would be benefiting from a personalised healthcare programme.
Addressing a session titled 'Healthcare Innovation: Investing in the Next Breakthrough Idea', Chris Coburn, Founding Executive Director, Cleveland Clinic Innovations, said considerable consolidation is taking place in innovation research with more collaboration taking place between the private sector and government.
The pervasive impact of the digital revolution on societies and economies across the world was raised at an insightful session by Dr Erik Brynjolfsson, the Director of the MIT Centre for Digital Business, USA, during the first day of The Government Summit, held in Dubai.

He cited Dubai as a leader in successfully harnessing digital revolution by investing in high-tech infrastructure. Dr Brynjolfsson encouraged other nations to display such foresight in order to avoid being left behind and considered uncompetitive.
Samsung Electronics' President and CEO BK Yoon, who is in Dubai for The Government Summit 2015, has revealed the secret sauce that drives innovation and inspires best practices at the South Korean firm.
Yoon shared the three secret ingredients of his 3P success strategy – Product, Process and People – and explained how these three pillars have shaped the history of Samsung's innovation.
Click to read full report here

Kevin Kelly, co-Founder of 'Wired' magazine says the Internet of Everything is going to transform the future of services.
Reading, according to him has already become a casualty. Today people do not read they 'Screen'. "We don't read any more we don't watch anymore we screen. We are the people of the screen. Screens are everywhere. There are going to be screen-less displays as well and they are becoming ubiquitous and then you have the second and the third screen.
Click to read full report here
Samsung's sales math
Korean electronics giant Samsung sold 665 million products globally in 2014, which equates to 20 products per second, according to company chief.
"We sold 665 million products in 2014 and we are expecting to cross that number this year," Boo Keun Yoon told the audience during his address at The Government Summit today.
The company aims to make all of its products Internet-enabled by 2020.
(Patrick Castillo)
"By 2020, our products will be 100 per cent of IOT (Internet of Things) enabled," he said.
The Internet of Things is a scenario of advances connectivity of devices, systems and services that go beyond machine-to-machine communications and covers a variety of protocols, domains and applications.
Yoon gave a peek how internet will revolutionize our lives in the future.
(Patrick Castillo)
"Imagine one pleasant morning, your smartphone alarm wakes you up but you're still asleep. Then it wirelessly connects to speakers to play soft music of your choice to wake you up. Once you're up, then smart TV comes into play, auto turning on to show your appointments and schedules for the day.
"As go for a jog, the smart watch on your arm will monitor your brain and body functionality and will call for an ambulance if it senses any abnormality in your heart beat."
And it does not end here.
(Patrick Castillo)
In order to transform these dreams in reality, Samsung chief asked governments to assist the private sector as these dreams cannot be fulfilled with alone.
"There cannot be a challenge that cannot overcome; it depends how much we bring it to the challenge. There are as many ideas as sand particles in the desert; they are just waiting to be found. And to do this we have to take ownership to take challenge and focus on solving that challenge."
Revealing the principles of Samsung's success, he said that the company focuses on product, process and people, which it believes that government too should focus on for successful governance.
Schwab has the drone on UAE
The founder and Executive Chairman of World Economic Forum Professor Klaus Schwab has praised the UAE for its commendable work in becoming one of the most competitive nations in the world and for pioneering the use of drones.
(Patrick Castillo)
"In the last four years, the UAE has moved from 27th position to 12th position in the world's most competitive nations list. The country is aiming to become the world's most modern country and best governed country and the leadership needs to be commended," he said, while addressing The Government Summit on Monday.
Schwab said that though there has been a collapse of trust between nations, regions and political leaders, but it can be restored through honesty and morality in leadership.
He urged governments to work closely with private institutions, saying their joint cooperation was necessary for growth of any country.
"It's no longer the 'big fish eating the small fish', but it is the' fast fish eating the slow fish'. There has to be innovation at every stage with effective implementation with the private public partnership shaping the future."
Schwab emphasised that it was important to remain competitive, driven primarily by innovation, adding that it was no longer "the age of capitalism but age of talentism".
He added that education and training, engagement of public and private sector and empowerment of women was necessary.
Follow Emirates 24|7 on Google News.