3.7 million follow Hamdan on social media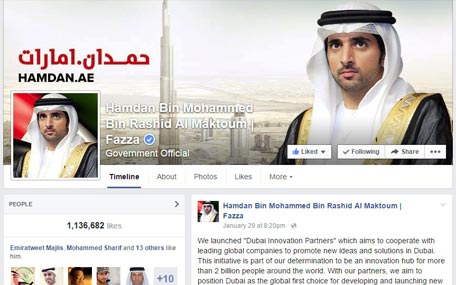 The number of followers of Sheikh Hamdan bin Mohammed bin Rashid Al Maktoum, Crown Prince of Dubai, on social media platforms has exceeded 3.7 million.
This global popularity reflects Sheikh Hamdan's position as an icon for young Arab leaders that attracts massive attention locally, regionally and internationally; moreover, it reflects Sheikh Hamdan's enthusiasm to utilise social media as a vehicle of direct and interactive communication with public following the footsteps of his father His Highness Sheikh Mohammed bin Rashid Al Maktoum, Vice-President and Prime Minister of the UAE and Ruler of Dubai.
Sheikh Hamdan bin Mohammed's followers on Instagram exceeded 1.6 million followers, on Facebook over 1.1 million followers and on Twitter more than one million followers.
On his pages, Sheikh Hamdan bin Mohammed bin Rashid Al Maktoum adopts a simple and spontaneous style that reflects the love and loyalty he carries for the country, its leadership and its people. He also uses the various social media platforms to deliver messages and increase awareness about several issues related to people's life and the social and humanitarian campaigns inside and outside the UAE.
Sheikh Hamdan inaugurated his official account on Twitter in March 2010, attracting over 235,000 followers in few days. His Facebook official page was also officially launched in the same year and his page on Instagram was launched in March 2012. To extend his communication domain, Sheikh Hamdan posts and tweets in both Arabic and English.
The content in Sheikh Hamdan's social media pages is diverse, covering wide spectrum of his initiatives and activities.

Follow Emirates 24|7 on Google News.